I have 2 of my 4 seats available for this game. Section 107.
Green unis on a green field with a green all-in C! They won't be able to see us and we'll run rings around them as we avenge last year's blowout. YES!


Stoked. Feel like it's been 2 years since we got to watch some live football.
What are our restrictions? Thought I had an email but can't seem to confirm. Masks, vaccine proof, etc. Anything as of yet?
Did anyone else realize parking passes say lots don't open until 3 hours before on weekday games?
I did see that and maybe it was for just the App State game we had to enter campus a certain way depending where you parked because of so many people now I didnt see anything like that for the Duke game so can I enter campus at any entrance (North Deck parking pass)
Anyone have any score predictions?
Charlotte: 31
Duke: 27
Our transfers will help on the Oline, but my main concern is our run defense I hope they hold up
Reynolds and Tucker will have big games
Will be interesting to see how our group of running backs perform
We have to force a few turnovers
Get off to a fast start
Home crowd will help big time and the weather is supposed to be nice 83 degrees with no rain
I cant wait ive been waiting for this game all YEAR
We are healthy and hungry, so I predict we will kick their accasses.
clt says tickets are hard to get right now
Any attendance projections out there yet? Obviously there will be no need for temporary bleachers. Sad.
After last years game, I'll refrain from posting a score. I'll instead say I hope we play very well, be competitive throughout the game and win.
I expect a similar game from Duke and a similar issue with us stopping the run. I wish I was more optimistic, but a team that can run the ball at will on you is nearly impossible to beat.
I think we keep it closer, but I think they dictate the game.
You need to enter according to where your pass is. All games. This is particularly true for games expected to be well attended, such as Duke.
Last year is old news. We have reloaded with upgrades and our QB is healthy.
There are very few tickets remaining and on our side they are mostly singles. Tickets are running $60+ so rare ar best. We will be full for this game. Only 3 tix left in 104 where I sit.
We reloaded the DB room, but what gives you optimism re: our DL, our 4-2-5 base scheme's ability to stop the run (I'm still not convinced), and the fact that we gave up like 8.1 ypc against them last year?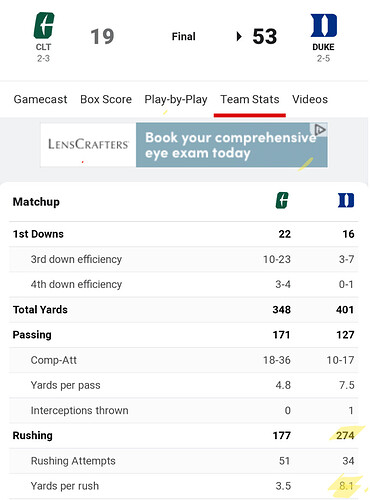 Not intended as snark. I think these are all legit questions. I will be cheering hard for us, but this game is a litmus test for our defense and our schemes, IMHO.
I do think Reynolds will be able to pitch the ball around a little more than last year's game. That should help some, but still think we will be playing from behind.
Hope dook has more class than app and no one drives Chris into the ground on his shoulder when they tackle him. I still believe that tackle last year was purposely to hurt him.
I expect a better game compared to the disaster last year. The atmosphere should be great and I think Reynolds will play well. This is not a great Duke team and that's reflected in the -6.5 spread even after last years game.
With that said, I don't see us winning this one. I think Duke pulls away in the 4th quarter.
My prediction: Hot Dogs, the fixins and a big ass cooler of cold beer. Go Niners!!!