4 words will sum up this game. McAllister is a BEAST.
No doubt that this is a sloppy win, but NT has averaged 41 points per game, and we have held them to half that. That's not nothing.
When Charlotte stopped only running it up the middle good things started to happen in the run game.
Agree! Hope we come out of this with more confidence in our abilities.
Dropping 49 feels appropriate
Several thoughts:
Too many penalties. Holy goodness this was bad.

Really good snaps from some really young guys. Donta Armstrong, Briston Bennett Shedrick Ursery, Comanche Francisco, Taylor Thompson, Chavon McEachern, Tykiest Crawford, Panda Askew all got some pretty substantial playing time tonight as true freshman, and I didn't think any of them were bad at all. We also had a ton of contributions from this sophomore group. It is so nice to have depth.

O line was horrible in the first half. I mean bad. Chris did a great job of making chicken salad out of chicken poop. I think they needed the confidence that built, and they were a totally different unit in the 2nd half. I thought our O line was flat our dominant in the 2nd half. It's amazing how much better your offensive coordinator looks when blocking schemes are executed correctly

At first glance our D doesn't seem like they played well, but holy crap they did. That team was averaging over 600 ypg, and we held them to 21 points and 479. The wideout they had is one of the best players in college football. I thought we were very good defensively today. We still had some boneheaded mistakes in the secondary, but we are night and day ahead of where we were as a defensive group 3 games in a year ago.

If we are on offense, or defense, you better find #5. Tyler Murray is a freak. A-Mac is a freak. both are having ridiculous seasons. A-Mac really starting to put together a really interesting case for the NFL. You don't find that size and speed combo often.

How about Chris Reynolds? clutch play after clutch play. He's ridiculous. 290 yards on 15 completions??? wow. And shoffner was good today as well. really good to see him get some time and make the best of it.

Calvin Camp is back boys and girls. All our backs played well tonight. I think that was thanks to a much better performance from the o line.

Last point. I thought our DT's may have been our strongest defensive unit tonight. They couldn't run the ball at all.
One last thing: hope vic is ok. he was really good tonight, as always. You sometimes forget about him as that's what we've come to expect. elder was really good as well.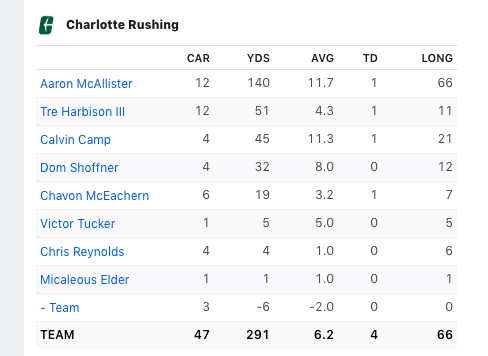 That's how we win games right thurr
Comanche had one of the weakest tackle attempts I've ever seen on a big UNT gain, but made up for it in coverage later.
Not sure it's fair to pick on him for poor tackling though. Tackling is non existent across college football this season. Look at the scores today. Lots of 90 and 100 point games.
I'm surprised it has taken the coaching staff 2 games to figure this out. Prior to this game the carries were 34-10 in favor of Harbison. They both had 12 carries tonight.
Reynolds arm strength is very limited. The chunk it up and hope will only work so many times. It's nice to have a strong rushing attack. Before tonight we had attempted 71 passes and 62 rushes. Tonight was 47 rushes to 23 passes. That's likely the split we will need moving forward to win games…
Lambert's recruits still making plays an being key players in wins. Hopefully we see some of Healy's recruits step up… not JUCO/transfer guys… but actual guys his staff had to go out and pitch to get them to Charlotte.
Lambert could not win with the guys he recruited. Coaching is about getting the most out of your players.
I understand what you are saying, and I don't think you are wrong, but I also think what you are saying is a very positive brick in the wall for player development under the Healy regime.
I thought Durning was a very good strength guy. I think Laskowski is in the conversation for best strength guy in America.
clt says McAllister is the next Derek Henry
Defense stepped up big time. One WR, one of the best in the nation, did his damage but we held the rest in check. Last year this game ends with both teams over 40. Play calling keeps improving. The runs up the gut just aren't going to do it. Have to be more creative. Need to clean up the penalties.
Finally of course Lambert's players are playing big roles. Will can't turn over the roster that fast and Lambert's guy are the oldest most experienced. If he can get this out of Lambert's poor recruiting classes imagine what he can do with higher ranked ones. What a dumb comment.
I was talking about on the field development, not strength guy coaching
I don't care what you were talking about, it wasn't a smart comment lol. He can't just kick all Lambert guys off the team.
It seems like we got a good coach, and one heck of a marketing tool. He has elevated us, along with Mike Hill, to the beginnings of high levels on the national stage we have never seen before.