Started accepting deposits in mid-December:
Adding SDSU is a no brainer.
If I were the PAC12, I would seriously consider adding Gonzaga for all sports but football, and leave the door open for them to maybe one day start a program and get it in too.
Would still technically be a 12 team league in all but football.
This is the best solution. If they really wanted to add a 12th football program, they could throw Hawaii a bone.
The PAC adding SDSU only is exactly what we want to happen if there are any additions, if it's just them then the MWC will grab UTEP (or no one). We get stability while Poggi leads us to the promised land.
You don't think they would try to get SMU over UTEP?
MWC would try but don't think they have a shot.
MW has no interest in UTEP.
MWC has a smaller payout per team @$5M than AAC @$8M, plus the exit fees to leave AAC. IMO No way SMU leaves AAC unless it's for the PAC 12 or Big 12.
If the timing were different, I think BYU and San Diego St would have been picked up. BYU seems more Pac 12 than Big 12 to me. Just my opinion and guess we will never know
So let's game this out.
Assume SDSU goes to the PAC and the MWC back fills 1.
Who do they go after?
Candidates are:
UTEP - but MWC has already said they don't want
NMSU - but maybe viewed the same as UTEP
a Texas school? But who? Texas State? Not going to take a C-USA recent call-up, and I don't think it will be an AAC school due to money
That leaves FCS call-ups: Montana / NDSU / SDSU / Idaho
who am I leaving out that could reasonably be considered?
As mentioned before, MW not interested in UTEP. As such, not a candidate for that conference.
Their Wikipedia page says the Idaho vandals were the only FBS team to ever voluntarily drop down to FCS from FBS in 2018.
Probably not a good look.
I wonder if the Montanas and Dakotas could actually compete at the FBS level. They're so successful at FCS would they want to derail that??
Maybe a team in California or Oregon?
Eastern Washington, Portland St., UC Davis, Sacramento State?
The pickings out west seem a little slim.
Does anyone know what's up with NM State? Why have they had such a hard time getting into a conference out west? Seems like they would be a good fit. Is New Mexico blocking them?
How about the Bison from North Dakota State? They have had a very successful football program at the FCS level.
They would seem to be the best FCS call up historically if they wanted it.
Their fan base is rabid.
Been posting recently about North Dakota State and their FBS ambitions.
Full disclosure - I got my undergrad at South Dakota State, so I might be a bit biased.
NDSU might not move without SDSU getting an invite as well. They moved to D1 together and it really helped both teams in terms of finding a conference and competitive play.
However, NDSU would probably have the financial backing to move up on their own if they wanted to.
How well situated is Montana?
They have a nice, picturesque football stadium that might make them appealing to the MWC…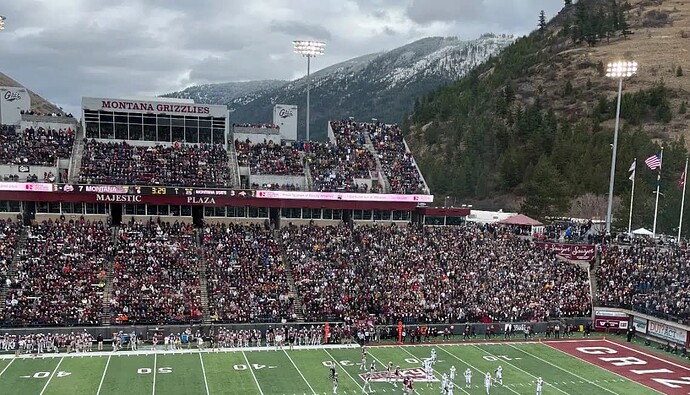 Something about that view seems to jive with "mountain west". Can't quite put my finger on it

Couldn't say I know a single thing about their other sports programs, including hoops.