Lets see what the Pope can do!!
Hopefully we can get a big crowd for Senior Day. Looking forward to it!!
If you don't have tickets already, they are offering a pretty good deal for this game.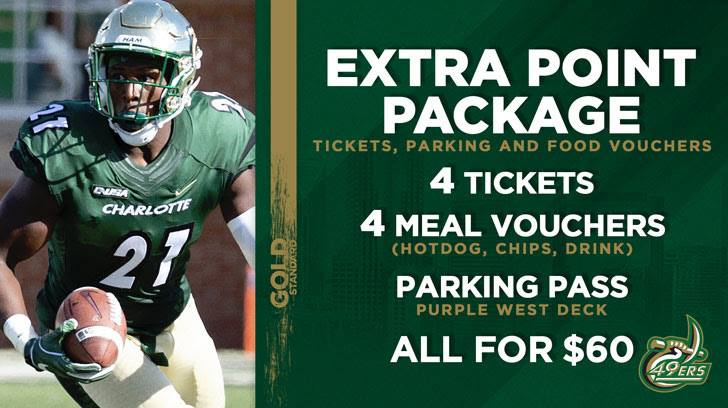 https://www.ticketreturn.com/prod2/Buy.asp?EventID=250437&utm_medium=sidearm-email&utm_source=charlotte49ers.com&utm_campaign=Charlotte+49ers+Football+Extra+Point+Package&utm_content=6cfa92ad-4417-4fc1-bbc4-08a2f45c255b&fbclid=IwAR1U7Q3YNm9_wMQcPyKfdicOa2mDqoxKSwi7vmxFCzivIupW31hcuzBX_ac#.W-nuftVKj1R
It should be a PERFECT day weather-wise for this game. Sunny and cool. Looking forward to it and hoping (praying a bit too?) for a good crowd. But not holding my breath for the students (29,000+ "strong" now) to show up.
Anyone need 2 or 4 tickets? I have 4 I won't be using in section 109 rows 18 and 19. It's 2 and 2 in piggy back configuration.
I wish I could go, but family stuff came up.
I'm in the same boat, I'm done with the Sheriffs experiment. Offensive production has dropped a ton and we should see what Brady can do. Lambert is done anyways unless he can pull a miracle.
If Charlotte doesn't win out we aren't going bowling at 5-7. Low APR.

Do you still have 2 available? How much?
You claimed the last 2. No more left.
I have 2 tickets for section 111 for free to any Niner who wants them. Shoot me a pm if you want 'em.
Can we have karaoke at the normbulance? I want to sing "Turn out the lights" by willie nelson in honor of our fearless leader!
This one might not be pretty. We match up with these guys worse than anyone we've played since App.
I can see us holding the ball for 35 minutes while their Qb picks us apart.
I think Marshall showed how to play against our defense and FIU has better wide receivers.
What if we had a game without giving up a special teams touchdown?
We had better put some pressure on their quarterback to have a shot at winning. Something we didn't do against Marshall.
Yea I don't like this match-up either, will take a near perfect game to have a chance in this one.