Congrats to @Dustin_Stover on recently being named Head Football Equipment Manager at UNC-Charlotte ‪#HerdEquipmentTradition‬
[url=http://twitter.com/HerdEquipment/status/208746570303291393]http://twitter.com/HerdEquipment/status/208746570303291393[/url]
[quote="emf, post:1, topic:26810"]
Congrats to

@Dustin_Stover

on recently being named Head Football Equipment Manager at UNC-Charlotte ‪#HerdEquipmentTradition‬
http://twitter.com/HerdEquipment/status/208746570303291393
[/quote]
Marshall…again? Next thing they'll want is for the school colors to include GREEN!

[left]Marshall graduate assistant to be, in the equipment room, is Dustin Stover. Stover served as a student-manager, then got the chance to intern this summer (through Sept. 4) with the Arizona Cardinals at their NFL Pre-Season Camp.[/left] [left]Stover is the second member of the Herd's equipment staff, run by former MU student-manager Rich Worner (after stops for Worner at W.Va. State University, the University of Virginia and Tulane University as head/assistant equipment manager). But a couple of days ago, Stover got more publicity than anyone ever wants for an embarrassing injury.[/left] [left]Stover took a low pass from one of the Cardinals quarterbacks where...well, where any man would not want to take a hard-thrown football below the waist. Suffice it to say, Stover went down - and almost passed out after trying to stand, and later had a nose bleed that may or may not have been caused by the injury.[/left] [left]This type of thing, not really all that rare, would have been forgotten quickly by everyone - well, excetp Stover and perhaps the QB, John Skelton (#19, pictured with Stover) with the bad throw - but Cardinal fans took many pictures of Stover's "distress" and had posted them on the internet about the "ball boy."[/left] [left]Perhaps even one of those photos, enlarged, has even made its way to the Marshall Equipment Room.[/left] [left]"The thrill of victory and the agony of defeat" was the phrase ABC's Wild World of Sports used in its opening and now Stover, thrilled over the chance to work an NFL camp then return to MU as a grad assistant after the Ohio State game, will live - in pictures - with the agony, just a bit higher than "de-feet."[/left]
http://www.goherd.com/index.php?option=com_content&view=article&id=304:marshall-works-early-morning-aug-12-sets-situational-scrimmage-for-pm-practice&catid=13:featured-news&Itemid=135
"Ball Boy"
---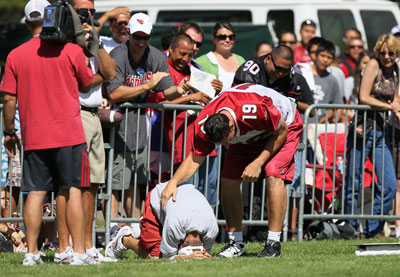 Is that what Tebowing is?