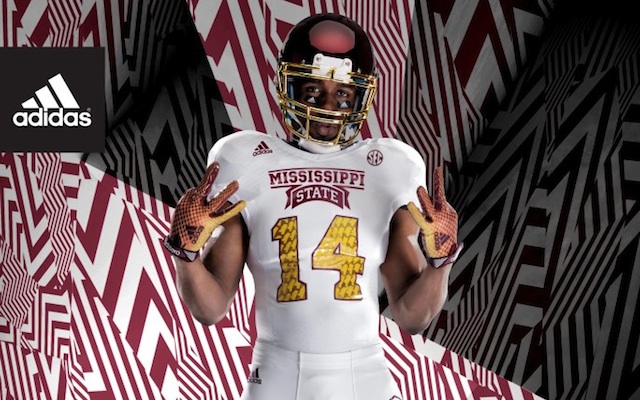 Game was in Florida, only in mountain cities are gold numbers outlawed.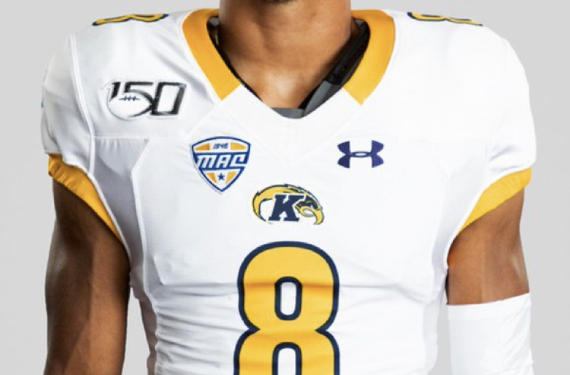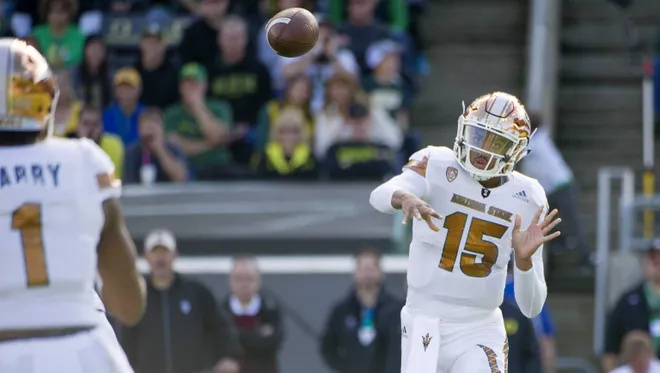 Maybe it's ok in the warm climes, Gold numbers can be worn without penalty in Arizona too!
The NCAA 2020 Rule Book says:
c. Numerals.

The jersey must have clearly visible, permanent Arabic numerals
measuring at least 8 and 10 inches in height front and back, respectively.
The number must be of a color that itself is clearly in distinct contrast
with the color of the jersey, irrespective of any border around the
number.
And they have an FAQ document which gives additional guidance:
What are the rules about the contrast of jerseys and numbers?
By rule each team must wear a jersey that has numbers that clearly contrast with the body of the jersey (Rule 1-4-5-b).
• The number itself must clearly contrast, even if it has an outline or border.
• The number should be clearly visible from a significant distance.
• If there is any question as to whether the number and the jersey contrast, the jersey may not be worn.
What is the purpose of the rules regarding numbering and visibility?
The rules for contrasting numbers and visibility are intended to provide clearly visible numbers for the stakeholders: coaches, fans, media, television audience, etc. This means that the numbers should be clearly visible at a distance under a variety of weather and lighting conditions.
I assume that the referees are the authority at the game as to whether the number are "contrasting". Obviously it is a judgement call. To nip this in the bud, I think you could go to the NCAA Rules Committee and request a ruling on the uniforms, and that would supercede anything the referees might think.
I looked everywhere, but found no rules that said the clown in the booth had any say in this matter.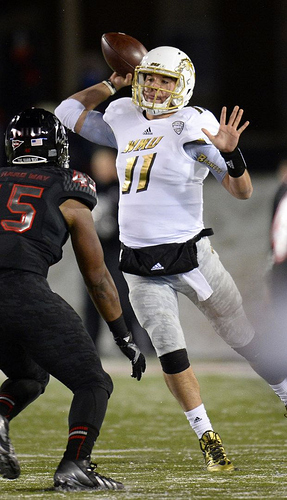 Hmm, Michigan is not warm weather so maybe it's just an issue when you have a doofus calling the game?
Have we been officially NCAA "slapped" yet for doing the same thing everybody else has done?
I think this going to be a bit to do about nothing. I simply look at this as a person who really didn't want to be calling a G5 game in the middle of nowhere, so he decided to spice it up a bit by creating a problem that didn't exist. I'm sure Hill is dealing with this at a NCAA level and I'm also sure that he has all of the examples that we have provided throughout this chain. Until the NCAA makes a ruling or a referee squad has an issue, I'm not going to lose much sleep over this. If the NCAA does make a big deal over this, I truly hope that Hill isn't afraid to ruffle a few feathers within an organization that has been less and less relevant throughout the last few years. If we have to change, so do a lot of others, so I think the NCAA will stay out of this so that they don't upset the Almighty P5 conferences that would also have to scrap some jersey designs.
clt would be in a bad mood as well. it looked miserable up there.
ESPN would not only get less backlash but probably would also save money by getting more local commentators to call these games
This. When announcers don't care about the game they make up faux controversies.