I'm ready for some of those $5m naming rights to be announced.
It would be great to see Tepper, Richardson, Centene, Lowe's, BoA, or really any of our local big money groups. We need to start tapping into those pots of money. It will be interesting to see if Truist continues BB&Ts aggressive stadium sponsorship.
I just hope nobody looking to name one of those $5m slots realizes that Big Cat got the whole stadium for just double.
The Solomon Rogers interview was also worth a listen. I liked his insights and perspectives.
I wonder if wanting to go immediately to 30k means we're past the 1A funding? I was encouraged we're wanting to get there immediately.
Hopefully. At a minimum we need to do 1a. 1 alone would be disappointing.
I estimated that we've raised a little over $50 mill for football expansion in the other Master Vision thread.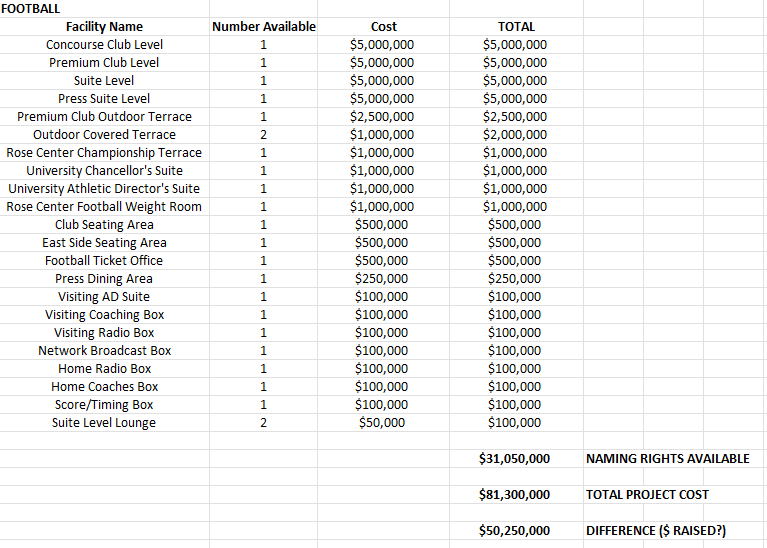 Great interview, I recommend everyone take a listen.
Both podcasts were excellent this week, Eric Henry is a SEC caliber beat writer covering CUSA and some good nuggets from Healy.
I agree. Healy has some great inspirational quotes in there.
It's too bad he's an FIU guy, would love to take him with us the American. His CUSA segments are much better than underdog dynasties American segments.
I think it would take a lot to get Eric Henry out of Florida.
Just wanted to throw it out there that Hunter thinks we are the favorite going down to FAU. I want to know what he's basing that on. I hope the defense has improved that much!
Yup I'll believe it when I see it, there's a lot of athletes on FAU's team. That being said would be a huge W if we get it to start the season.
I'd like to see us match up better with FAU through our 2nd and 3rd stringers. I think it's time we closed that gap, and I'm hopeful that recent recruiting efforts will show that.
clt says the pod is getting better each time