Ga St leading Louisiana 10-0 late in the 3rd.
Louisiana edges Ga St 21-17.
Interesting slate of games this week:
For the early games, I think Liberty might beat Ole Miss.
Some other big matchups in CUSA.
I left our game off in purpose because the list was already so long.
VA Tech falls to BC, after punting on 4th and 6 with 4:47 left despite being down 17-3.
Hokies drop to 4-5. Fuentes is done in Blacksburg. This is one of two jobs I thought might steal Healy if he got off to a good start here. Will be interesting to see who they get.
Liberty might beat ole miss? I bet you $100 right now they don't. Let me know.
Watching wake at crapple hole. Lots of empty seats. But good news, wake is currently up 17-10 in the second quarter.
Man did I blow that. I had no idea Ole Miss' defense was that good.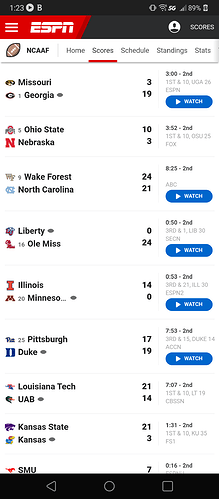 Don't look now but Illinois is beating Minnesota and Duke is beating Pitt.