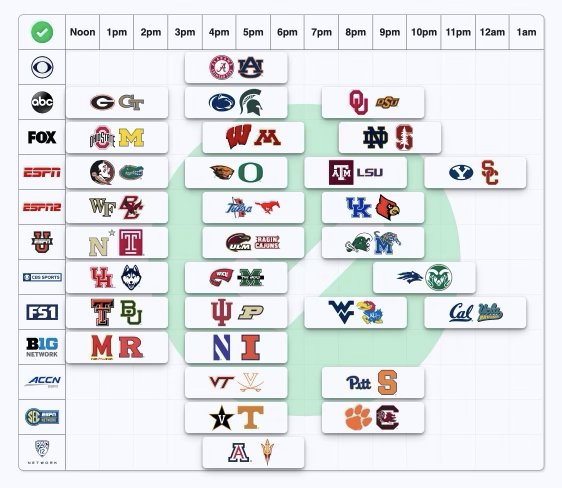 There is the broadcast TV schedule for today. I like the graphics they do.
Full schedule:
Looking at CUSA lines today and WKU +1 and FAU -3.5 seem like easy money.
clt says we will be on there in 23 vs eCu
I am concerned that Cincy is going to lose the AAC CCG to Houston. Since losing 49-31 @ Oklahoma early this season, the Cougars (11-1, 8-0) have been red hot, and no one is talking about them. They are easily the 2nd best team in that league, and highly capable of winning that game.
I have no love for Cincy. I just want to see the G5 crash the P5 playoff party.
Also, we are so far away from this level of football. Watch this game Sat Dec 4th at 4pm and think about how far we have to go.
Ala-freaking-bama wins in 4 OTS thanks to a stupid mistake on Auburn's last possession in regulation.
Hopefully, Georgia blows them out in the SEC title game.
So Memphis is going to Hawaii and I am going to see Christmas lights at Stowe Botanical Gardens for my holiday trip. Sounds about right. At least I don't have to waste time finding a hotel room and airfare