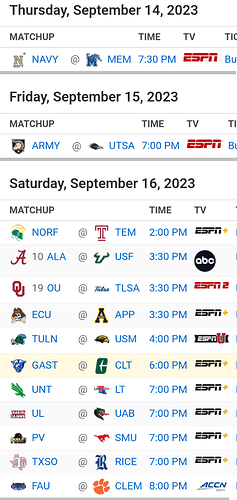 https://twitter.com/SSN_American/status/1700948734408794605
9 pt dogs to GSU.
clt says that is free money, bang that now!
Memphis and Navy tied 7-7 as 1Q winds down…
Game is on ESPN.
https://twitter.com/American_Conf/status/1702519205541625863
Really exciting finish… Navy fumbled on a deep drive, trying to take the lead. Memphis got the ball… and threw an INT. Navy driving again… 4th and 6 deep in Memphis' territory (around the 15), and they threw (!!!) the ball over the middle. Originally ruled a 1st down by the chain crew, a review said they were just short. Memphis got the ball back, and kneeled down for the W.
Earlier in the game, Memphis fumbled on the goal line, but Navy gave it right back.
Both of these teams are going to be tough opponents, even playing at the Rich.
That 4th down play, I thought the refs were too generous with the placement on the first measurement, felt after review they moved it back too far and didn't measure at all. Terrible, but Navy is much improved…Memphis is Memphis…both will be a challenge for the Niners.
Army up 30-21 with the ball after 3. Wow.
Black Knights jumped out to a 14-0 lead in the first quarter and have been in command ever since - pun intended!
Roadrunners still in it after that 72 yard TD pass and the two point conversion to get within 37-29. Now D needs to step up and clock becomes an issue as well.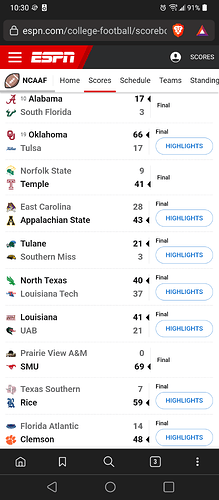 Rough week for the league. 1-3 vs the Sun belch.
I've got nothing. To make matters worse, the only teams that looked good are all on our schedule: Rice, SMU, and to a certain extent USF.
1-11 in a bad league incoming.
clt says the smu score was nice
Had been wondering how Dilfer would react to UAB's miserable performance vs Louisiana. More reserved than Poggi but does sound like there could be some personnel shuffling in Birmingham though apparently no one will be dismissed.