QB Prospect making an OV. Thought folks might be interested.
QB from Fort Mill, SC - Nations Ford HS
Kinda want to land this guy:
Besides being a big body,
by Rivals, at a need position, I just wanna have a big guy named Smalls.
clt says we seem to be finding croots from the Beaufort area recently
If we are going to go to the AAC, this is the type is recruit we need to be going after and signing
OL with 13 offers.
Couldn't find a 247 or rivals profile for him.
6'5 270 ATH/TE/OT
Looks like a developmental OL player.
This guy is visiting tomorrow. This would be a really great get for us. I hope he has a fantastic time and the weather is amazing.






Charlotte commit Sean Boyle from Charlotte Catholic (N.C.) turned in one of the most impressive performances of the afternoon as he displayed a quick release with the ability to locate the ball accurately consistently throughout the day. Playing in a more traditional under center offense in high school has potentially limited some of Boyle's exposure as a passer, which for now is a good thing for the 49ers, who appear to have nabbed a steal in Boyle. Don't be surprised if you see Boyle start to gain more attention on the trail.
Boyle is blowing up… I hope we can hold onto that commitment.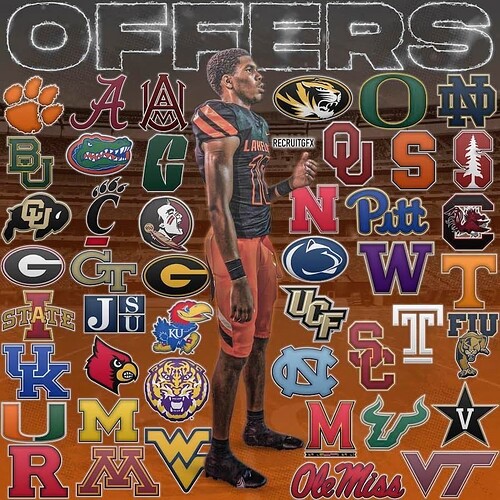 We are recruiting this guy, but honestly, I can't stand these graphics. Just put All FBS football up there. It serves no purpose.
Congrats, you got 43 FBS offers. Post your top 5 SEC teams like you probably will end up doing anyway.
clt says our new logo works so much better.
The company of those logos is more encouraging than our latest basketball recruiting competition
Yeah. I'm not sure whether to smile or laugh!