clt says they have lots of debt
clt says appy may be headed down the same road.
Im not posting this here as an insult or as a way to stir the pot. I just decided to look up Charlottes revenue bond debt that is currently outstanding because I was curious. It Charlotte is currently holds $531,335,964 in revenue bonds. Just north of a half $billion compared to Apps approximately $221 million . If you guys lurk our board then you will have seen my problem with this and the future of higher education. IMO Its a problem across the UNC system where individual schools are going crazy with the credit card and ultimately going to have to bill it to the students .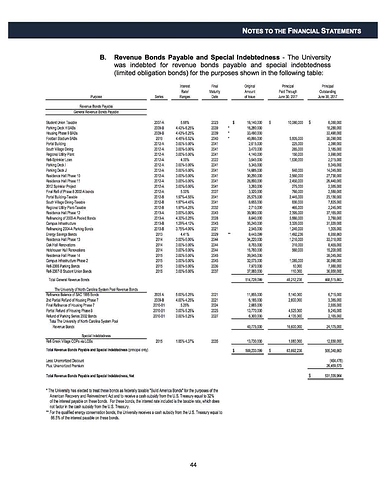 For a growing school that is thriving, revenue bonds are not really a problem. While it is debt, you typically "budget" for the debt repayment every year hence the term revenue bonds because the collateral is generally your future revenue.There are also options to refinance that debt later.
Construction is CRAZY expensive right now. This debt is a healthy indication you are in a good place.
The difference is Charlotte currently accounts for 65-70% of the growth within the UNC system. Is it sustainable? Not sure but it's the nature of the beast at the moment.
@Boonetown479 , I am not arguing that debt is a scary thing, but if you look at the document you linked it is basically on-campus housing. Dorms and parking are not funded like classrooms as they must pay their own way, and it would be fiscally irresponsible for Charlotte (or App) to build up an account and sit on hundreds of millions of dollars, then go build dorms. The approach is to borrow the money to build what you need, and then housing or parking fees pay it off over the projected life of the bonds. Charlotte just happens to be fast growing and needs more of both, hence the large amount of debt.
Nobody was using the Library anyway.
clt says this could open up an AAC spot for us.
They should probably hire Dubois.