clt speaks the truth . I am digging this reto concept though…I already bought a hat
What I really want to see is old Norm on the side of of a football helmet
Wonder if there will be any gold hats for sell in the merchandise booth Sat
I don't care who you have to sell your soul to, Mike. Get this on the field.
I absolutely LOVE the retro shirts…especially with retro norm.
But can we not find a vendor that can use a $5 basic cotton t shirt??
$32 gets you a nice dry fit polo…why are we charging that for a t-shirt??
Find me a $15-$20 version of this and I'm in.
clt says send clt the link for $35 dri fit polos!
Normally clt spends at least $65
clt needs to shop somewhere other than Macy's.
There are plenty of Dri-fit polos under $35…and there are butt loads of t-shirts under $20.
I also question how we market $35 tshirts in our on-campus store to college students who live on a Ramen Noodles and Dominoes Pizza budget.
On a side note…it occurred to me that It's kinda funny how the only thing our Athletic Dept does top shelf is t-shirts.
Wall mart has limited access for the zep
clt asks if you are talking about actual dri fit, or knock off brands.
I got tired of not being able to find anything I liked in the book store so I made this.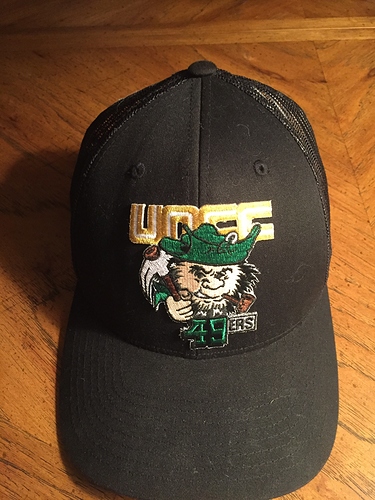 EDIT: I bought the patch off ebay. I'm pretty sure they are still on there. I then bought a bunch of hats wholesale. They are called Yupoong Retro Trucker (Link). Sewed on the patch. I really wish I could find a patch with just old school Norm and without the UNCC.
Well done! I think everyone probably wants to know how you made this happen.

I think they have that old school patch on ebay
clt asks if you can just get the norm patch
I ordered a Norm sweatshirt online on Friday because I knew I couldn't get over to the bookstore on Saturday. Got an email today that my item was on backorder.

It's almost as if we provide merchandise that people want at a price that isn't insane there is a demand for our product.
Seriously…at what point did $32 for a one color print tshirt become not insane??
I guess if people are buying them…then it is what it is. But I can't pull the trigger even though I absolutely love it…out of sheer principle…that no tshirt is worth paying $32.
Rant over.
Sorry.