Volume warning

WTF is going on in Cabarrus?
Yesterday NW Cabarrus HS evacuated due to a bomb threat, and now hearing that Cox Mill HS being evacuated today …
https://amp.charlotteobserver.com/news/local/education/article266031831.html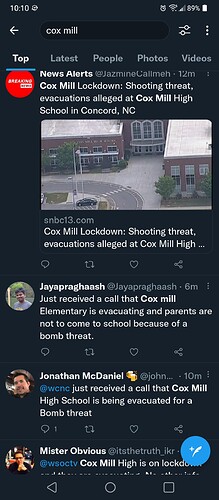 My daughter's high school here in Austin had a gun threat for today (9/20) that was uncovered by scribbles on a bathroom wall last Friday. Pep rally canceled and morning practices suspended, school locked down. They did finally say they identified the suspect this morning.
Get those people out of the gene pool as quickly as possible.
Looks like they are trying to take themselves out of it on their own.
I don't know why I posted this. It's true though and I guess the reality of the #s kinda made me blink.
Believe the Fed just announced another 0.75 pt bump to the prime rate.
clt says don't pay interest!
clt says lots of Charlotte gear at quail hollow today
clt says you need more tvs