Anybody planning on going?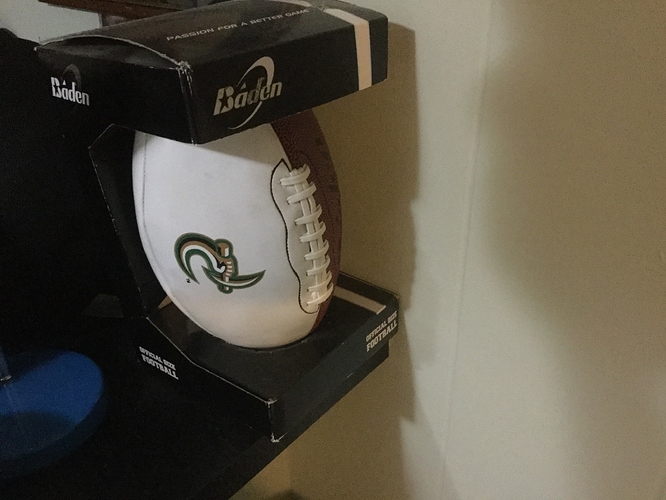 If someone will get me one of these signed, I'll pay the cost of the football, freight and send you something nice from vast memorabilia collection.
Pm me.
I gotchu, fam, was first in line. The bookstore didn't have any footballs, so I had him sign a mini helmet. DM me your address and I'll get it shipped out, no charge. I just ask that you pay it forward and/or make a donation to the 49er Club.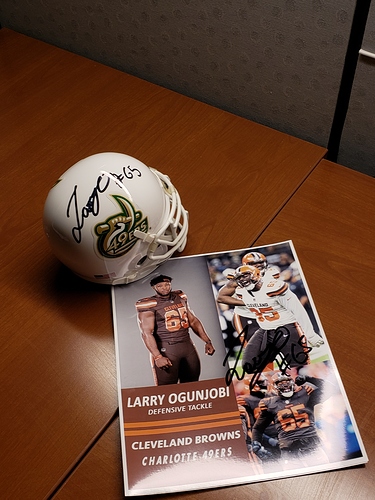 I couldn't make it out, had to work. How was the crowd?
That sucks. I think if they announce this type of thing earlier than yesterday, more people come out.
Yeah, guy behind me had to hustle out last minute on his lunch break because his friend with him noticed it on football's Instagram. He was bemoaning not having merch for Larry to sign.
Hate i missed this signed mini helmet would've gone well with my Lambert signed one
Should have had him in The Union. Crowd would have been a lot better.
This was probably a move by Healy to get more people around our facilities, players and coaches.
I get that, but random students arent likely to walk all the way up there. Tons more people around the Union.
Maybe Healy could provide a dozen Millenial golf carts so students can go from the Union to Fieldhouse along Niner Way?
Larry threw the first pitch at baseball today. Got it to home plate in only one bounce.

Yes, but Larry is a defensive player. Let's see the catcher take that ball and try to make it past Larry to second base.

Ha! Not even with full catcher's equipment.

clt says the millennials would demand an avacao cart
CCI giving Larry some love with 2 spotlight stories:
https://cci.uncc.edu/news/2019-02-18/alumni-spotlight-larry-ogunjobi
Everyone else would demand a luxury box with achoholic beverages.