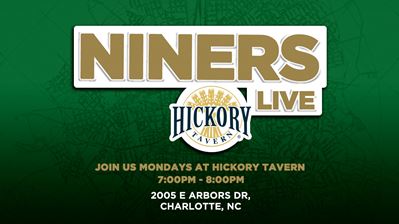 Moving to Hickory Tavern off of W. Mallard Creek Church Road during remainder of the basketball season.
Shorter commute time home to Ballantyne for the coach.
Bought house in Ballantyne recently. Coworker is his neighbor.
It should always be in U City, anyone know why it was in Concord?
CBC is a partner with athletics. Pretty sure they're making us a beer kinda like ol tuffy that NCST has
Ahhh gotcha and nice! Wonder if Armored Cow will do the same
They were fun to attend at CBC, especially when the crowd picked up. They gave us the main room for the show.
Today is 49er Day on ESPN 730! (NOTE: tried to post this in the shout box but not working)