So the only viewing option is flosports that people say will scam you?
Welp, it looks like Flo is a no-go. Thanks to those who warned.
Just listen to the game on ESPN 730AM or the TuneIn App. Matt S does a good job calling the game.
Just FYI, it is not offered on their app, but there is a $29.99 monthly plan on their website that would break down to $10 per game for this week if you want to watch.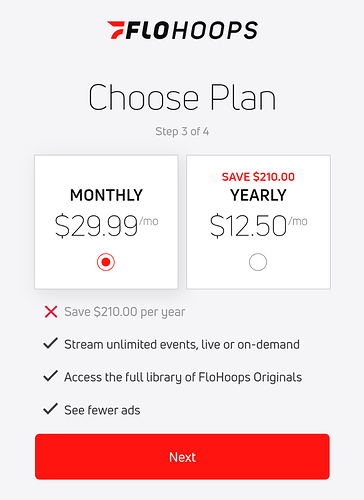 I bet it will still be a pain to cancel, but it beats falling for their $150 yearly scam.
I cannot wait to get away from stuff like this and CUSA.tv constantly ripping us off. I don't think ESPN+ is great, but at least it's cheap and easily accessible.
If someone subscribes to flosports and pm me their login and it allows us both to watch, then I'll pay $5 game
Any chance a bar will carry this? I'll show up tomorrow at noon to whoever carries it.
Based on the experts, looks like this will be a though one for the Niners. For me, I like the team and believe we will perform well. However, I really do not have any expectations for this game.
I have no doubt we will perform well for 3/4 of the game. Hopefully that's enough to make up for the 1/4 of a game we always suck.
We can't possibly keep this scoring pace up.
Not sure Toledo can either
Guess were not going to play any defense today
The first 16 minutes of this game may have been the greatest shooting display I have ever seen from 2 college basketball teams.
The last few minutes have been the refs taking over the game with some horrific one sided officiating.
I am so tired of shit like this.