Winner probably goes bowling, while loser stays home.
We ARE undefeated in Oyster Bowls!
Who said we weren't making a bowl this season! Anyone going to the game?
Summary of how our opponents did this week.
Overall our opponents are 53-80, 25-31 in C-USA.
---
DUKE (3-8) - Lost to Louisville 62-22 *eliminated from bowl eligibility
GARDNER-WEBB (4-7) - Won at NC A&T 35-27 *season complete
At GEORGIA STATE (6-5) – Beat Arkansas St 28-20 *Bowl Eligible
MTSU (5-6, 3-4 CUSA) -Lost to ODU 24-17
At ILLINOIS (4-7) – Lost at #13 Iowa 33-23 *eliminated from bowl eligibility
At FIU (1-10, 0-7 C-USA) – Lost to North Texas 49-7 *eliminated from bowl eligibility
FAU (5-6, 3-4 C-USA) –Lost at WKU 52-17
At WKU (7-4, 6-1 C-USA) – Beat FAU 52-17 *Bowl Eligible
RICE (3-8, 2-5 C-USA) Lost at UTEP 38-28 *eliminated from bowl eligibility
At LATECH (3-8, 2-5 C-USA) –Lost at Southern Miss 35-19 *eliminated from bowl eligibility
MARSHALL (7-4, 5-2 C-USA) – Beat Charlotte 49-28 *Bowl Eligible
At OLD DOMINION (5-6, 4-3 C-USA) – Won at MTSU 24-17
.
.
C-USA STANDINGS: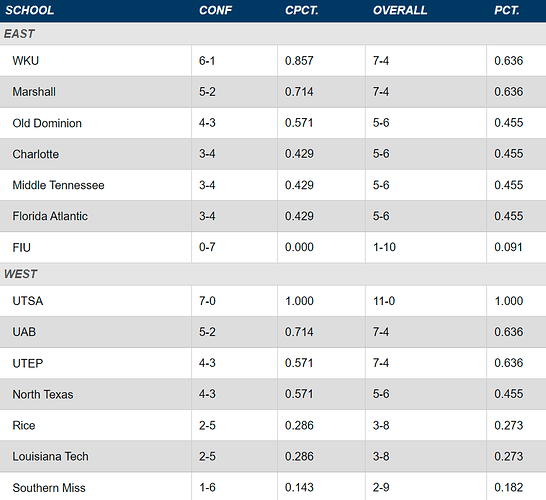 Bowl eligible: UTSA, UAB, UTEP, WKU, Marshall
Games with bowl implications:
Charlotte at ODU - Winner is bowl eligible
MTSU at FAU - Winner is bowl eligible
North Texas vs UTSA - NT is bowl eligible with win
I am really surprised to see FAU struggling to be bowl eligible. I think any of you who have seen them know what I mean. They have too many big athletes to be that bad.
I thought FAU was the best team we played. We were overmatched from the first snap and I thought they would be WKU.
We don't have to "shock the world" to beat ODU. They are in the same boat as us. Lose and go home. "Hot" can also mean "due to lose."' If we show up like it matters and play a little darn defense, there is no reason we can't win this one and go bowling. Who knows, we might even catch a lackadaisical uninspired team and pick up our first bowl win. It ain't over.
I agree, I think the FAU game was the only where to my eye there was a noticeable talent gap. Them and maybe Illinois.
Worse CUSA collapse? Us or FAU?
clt asks where did they find that helmet?
You could say we've collapsed but I don't think we've played great all season. Duke was probably our best performance overall.
One guy had us with 1 win this year, so I guess (according to him) we're 5x better than we're supposed to be.
I vote FAU over us. They are more talented and better coached.
FAU has more talent, they were in the three picked to battle for east. They're a bigger disappointment but that doesn't make me feel any better.
Even if we win this game, and I don't think we will, we'll only be "eligible " for a bowl. Not sure I really want to see this team get embarrassed in a lowest echelon bowl. If the team wants to go bowling then ok do it and we'll all live with whatever happens.
Agreed…I look at losing at ODU a win. One less national TV embarrassment for us is a net win. And…they war they have played down the stretch (as opposed to us), they are certainly more deserving and would represent better in a bowl game than we would.
Not only that, but I really feel if we win Saturday and become "bowl eligible" Healy won't make any changes on his coaching staff, and we will have the worst defense in CUSA again next year. I never want the niners to lose, but I don't see what winning Saturday really get's us, this team has so many problems.
Extra practices are huge, you want a bowl just for those. Also could impact recruiting, bigger difference between 5-7 and 6-6 than 4-8 and 5-7.
How could losing like we did against Buffalo impress anyone?
clt wants a florida bowl, if we make it
I'm happy with either result Saturday.