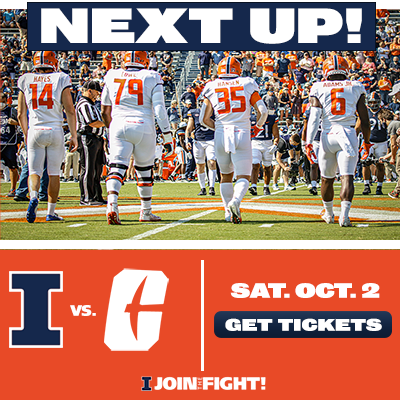 I want to be optimistic, but the logical side of me really dreads how we match up against Illinois. I think we have shown our offense can keep us in games, but we are shaky on the road. They really need a win considering the slow start/they've let a few winnable games get past them. Does this motivate the team to want this more or work to our advantage that the home field advantage may not be as strong for them this year?
Ponder what our record would have been if the Niners played their schedule up until now…
Our logo looks so much better it's unreal
I'd wager at least the same, pretty sure we could have gotten one of those teams. Possibly 2.
On my spectrum TV listing in Hickory, the Big Ten network for Saturday at 12 shows Minnesota at Purdue?
Do tell, what teams on Illinois schedule do you think the Niners beat? Nebraska? Maryland? Purdue? Virginia? Who would be the only loss in your wager? I don't like to bet, but this would be irresistible
UTSA we absolutely could beat. Not would but could, we'd be less than a TD dog to them.
Nebraska and Purdue are certainly winnable.
I think Virginia and Maryland would be a bit too much.
For clarification I think we would have the same record but could possibly have 2 wins instead of one. Illinois has had several close games with fringe bowl P5 teams, they've not run the gambit of elite teams. For comparison I put Duke and Illinois at the moment in the same category, the difference is I think Illinois will run on us until the RBs legs fall off.
Reminder: We are reportedly getting $1.2 Million to play this game.
We are 10 pt dogs to a 1-4 team because of a horrible strength/preferred style vs weakness matchup on the road. I'd love to steal this one, and take their money too, but it means we would have to evolve past what we have shown through 4 games this season.
I hope we don't spend all afternoon posting memes like these: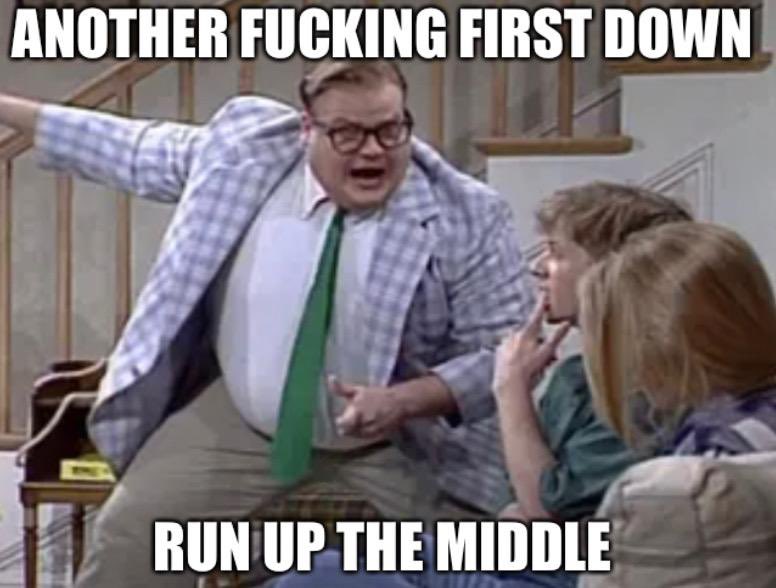 Other than that, thanks for the

I do think we have a chance to score on them if our WRs get out in space. If we can find a way to just slow down the run we've got a chance, but that's a big two letter word.
Also this is a chance to go 4-1, get two P5 wins in a year, go 1-0 against the Big X, the season gets very exciting if we can find a way to pull this off.
Serious house flag bragging rights in my house. We will have boots on the ground Friday in central IL. First time for me in that stadium not wearing orange and blue.
Oh a W would be amazing. Only having to go 2-5 in remaining CUSA games to be bowl eligible would be a position I would never have expected to be in at the beginning of the season. We'd even be talked about as a threat to win CUSA east. The stands would be packed next Friday for FIU, and the students would be especially rabid.
I have some faith in our offense to put up at least decent points… Say 14-21 range, even against their P5 defense. But I have a huge bias against beating teams that can run at will on you - especially on the road. As all of you football junkies know, it's more than just the yards. The team that can rack up first downs just running the ball right down your throat controls the TOP, the game flow, and it's just freaking demoralizing. It's like trying to win the race from the back seat. Or maybe the trunk of the car.
I'd love to eat a big bowl of crow on this one. Would be fantastic.
Give them hell Apex!
I seriously thought about going to this game too. I have family in the Chicago burbs.
Only thing wrong with that scenario is FIU is an away game.
Lol…
NWA has been complaining that we don't have another home game until late October, and I still whiffed on that.
This is a pretty meaningful 2 game stretch then for us. 2 road games, then a bye week, then FAU…
I'm thinking we need to try to split these 2 games, and to be honest, that'd be a solid accomplishment at this point. 4-2 on the front half of the season would be a solid start.