Historians. Is this the biggest conference game we have had at home with regard to positioning us to go to the CUSA championship game?
My admittedly amateurish reading of this game is its huge. We would go 3-0 in conference and push the next best team in our division down a game.
So my feeling going in this is a huge game. We need this! Let's win this. Go niners!!!
Edit. Oops. Did not realize Marshall had jumped FAU in the standings. I still think this game is hyper important.
Yep. This is a big one for us. And 5-2 just looks so much better than 4-3
We're getting no respect from ESPN, which is no real big shocker, with only a 30% chance of winning at home. I hope all of the "experts" keep betting against us. If Healy is smart, he keeps using this as motivation to have the NINERS shove it down their throats on game day.
Huge game. We win and we are in drivers seat to come out of the East with Marshall game being at home.
Maybe not biggest home game ever but it's up there!
We looked really good against them for about 3/4 of the game last season. I hope we can carry over the good from last season and get some pay back. Would be one of the biggest wins ever for us.
Initial odds have us as a 4-4.5 point underdog
The time travellers from Vegas have spoken. We will lose by 4 or 5…take it to the bank.
clt says biggest home game yet
Two years ago we were in a similar position and was weighed, measured, and found wanting by Kiffin. We're better than we were two years ago and while FAU is still probably the most talented team in the East Kiffin isn't there to get the most out of it.
This is a monster game, we win this one and we're in the drivers seat for the East.
clt is bringing golf balls and mustard bottles to toss at the kiffen replacement.
Likely a nxt or equivalent
We have never had this opportunity in football…a late season game with real implications towards winning the division/conference. This is the type of game Lutz thrived in and what made me so proud as a Niner during his tenure. I'm sure his teams fell flat on a few occassions…but they were few. His teams were ready, fired up and prepared to win these games…and we won our share.
I see a lot of Lutz in Healy but this is the first test to really see if the Healy hype train could be for real.
A tough but winnable game…at home…with REAL conference implications.
Big test…how prepared and ready will he have the troops???
Here's hoping for some Lutz-esque magic this Thursday night!!
Pays to not have your head coach also doing special teams.
Summary of how our opponents did this week. Overall our opponents are 26-50. 7-12 in C-USA.
DUKE (3-4) - Lost at Virginia 48-0
GARDNER-WEBB (2-4) - BYE
At GEORGIA STATE (2-4) – BYE
MTSU (2-4, 1-2 CUSA) -BYE
At ILLINOIS (2-5) – BYE
At FIU (1-5, 0-2 C-USA) – BYE
FAU (3-3, 1-1 C-USA) –BYE
At WKU (2-4, 1-1 C-USA) – Won at ODU 43-20
RICE (2-4, 1-1 C-USA) Lost at UTSA 42-0
At LATECH (2-4, 1-1 C-USA) –Lost at UTEP 19-3
MARSHALL (4-3, 2-1 C-USA) – Won at North Texas 49-21
At OLD DOMINION (1-6, 0-3 C-USA) – Lost to WKU 43-20
.
.
.
Conference Standings: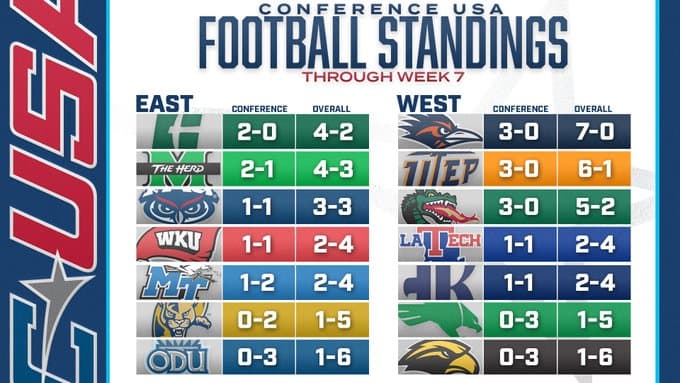 Anyone joining the Normbulance tailgate this week - we have Cicis hooking us up with discounted pizzas. Just let me know if you ware going to eat so we can factor in head count.
I read that first as discontinued pizzas and wondered what that meant!!
So if we beat FAU does that make us 1-0 in the AAC?