Get the Gold Rush and maybe some sedatives for this one.
Very tough game. Even before the season started this game scared me.
I agree…I told a buddy before the FAU game that WK could by ugly for us…I'd be shocked now if it's not.
Summary of how our opponents did this week.
Overall our opponents are 33-49. 10-14 in C-USA.
Teams we have played are 20-30, 3-6 in C-USA.
Teams remaining are 13-22, 7-8 in CUSA.
DUKE (3-4) - BYE
GARDNER-WEBB (3-4) - Beat Robert Morris 28-17
At GEORGIA STATE (3-4) – Beat Texas St 28-16
MTSU (3-4, 1-2 CUSA) -Won at UConn 44-13
At ILLINOIS (3-5) – Won at #7 Penn St 20-18 in 9 OT
At FIU (1-6, 0-3 C-USA) – Lost to WKU 34-19
FAU (4-3, 2-1 C-USA) –Won at CHARLOTTE 38-9
At WKU (3-4, 2-1 C-USA) – Won at FIU 34-19
RICE (3-4, 2-1 C-USA) Won at UAB 30-24
At LATECH (2-5, 1-2 C-USA) –Lost to #24 UTSA 45-16
MARSHALL (4-3, 2-1 C-USA) – BYE
At OLD DOMINION (1-6, 0-3 C-USA) – BYE
.
.
C-USA STANDINGS: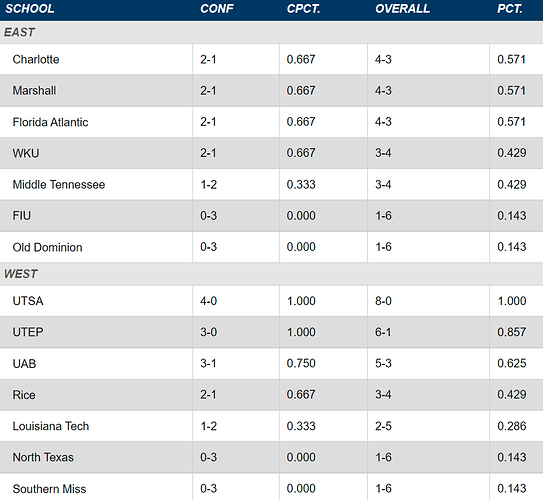 I liked hearing that Mark Carney's wife asked him "why have you been shutout in the 2nd half in all three of your losses?" Same thing many of us were thinking…
That was great. Glad we have a coach that shows remorse and emotion about losing, but not in a bipolar, burn it all down kind of way like many of you (not including you in that wicked bunch Mr. Bojangles).
Frankly I'm relieved this is unwatchable because it could be unwatchable. Go Niners.
Living in your fears, kind of like living in your past dorm?
On the positive they are a pass first team and we can rush the passer more effectively than stop the run. We're going to need our A game to win this one.
Love hearing Healy give interviews and that was another good one. Being out of town, I don't get to listen to local radio ever, but glad they seem to be giving much more coverage to us in the last few years than before.
But still, most of these guys you can tell are biased against our program. I get the sense Healy realizes these guys suck, but hats off to him to power through some of these terrible questions. It was pretty funny to hear Molly's question about WKU's strengths that she answered herself and he kind of pauses but then answers as best he could. But it felt like you could read his body language through the radio of him saying "what kind of question is this but I'll answer anyway!?" She's always trying to take shots at him and our program and understandably so considering she's an App sideline reporter…but man is she terrible to listen to!! Who takes shots at someone over the air after they get off the air??? I know it was regarding Halloween candy, but God she is bad.
God, what is up with college football this year if we have this stat:
Charlotte, which ranks 10th in the nation in redzone defense, has forced 5 redzone turnovers
Our red zone D isn't bad actually - we just give up a lot of long touchdowns.
You can't have a bad red zone defense if you let the other team score long before they get into the red zone.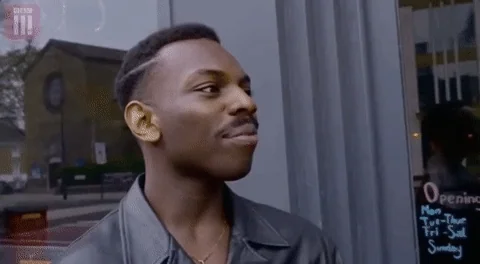 We have to at least cover the spread on this game. 73 is a high over/under but I'd be surprised to see either team under 30 and the winner probably scores at least 40. .
WKU literally averages 40 pts per game. Against our defense and on the road…I'd put the over/under for them at 50. Especially if we struggle to score (like we typically do on the road) giving them MORE possessions.
I am expecting 50ish to 20ish.