Anything on todays game ?
D1 has been releasing their Top 100 programs, 10 teams at a time over the past few days. The last time they did this in 2019 we were not on the radar. We are now 74th, which is a pretty big jump. Its always nice to see how others perceive our program on a national level.
Here is what the rankings were based on:
For the purpose of this exercise, we don't care what happened in the 1970s or 80s, or even the 90s or 2000s — that's ancient history to a potential recruit in 2021. Tradition is nice, but it's more important to establish a tradition of consistent winning in the last decade, and especially in the last five years. Our ultimate goal here is to identify the programs in the best shape right now, with an eye toward the next five to 10 years.

So we began by awarding each program points for making regionals, winning regionals, reaching the College World Series, and winning the national championship in the last five (completed) seasons, and a fewer amount of points for success between six and 10 years ago. That gave us a starting point; then national writers Aaron Fitt, Kendall Rogers and Mike Rooney made adjustments based on evaluations of coaching staff quality and stability, facilities, scholarship/financial aid situation, conference dynamics, momentum, and recruiting and player development proficiency. As the chairman of the Division I Baseball Committee likes to say every year, it's more of an art than a science, but we tried to take many factors into consideration and debated our rankings internally at length.
I feel like we should be a little higher on the list but I am pretty biased.
Here's some teams of interest on the list so far 61-100:
63 South Florida - AAC
64 Old Dominion - C-USA/ Sunbelt
66 UNC Wilmington
67 VCU - A-10
74 Charlotte
80 Rice - C-USA/ AAC
91 UCF - AAC/Big 12
96 UNC Greensboro
97 Tulane - AAC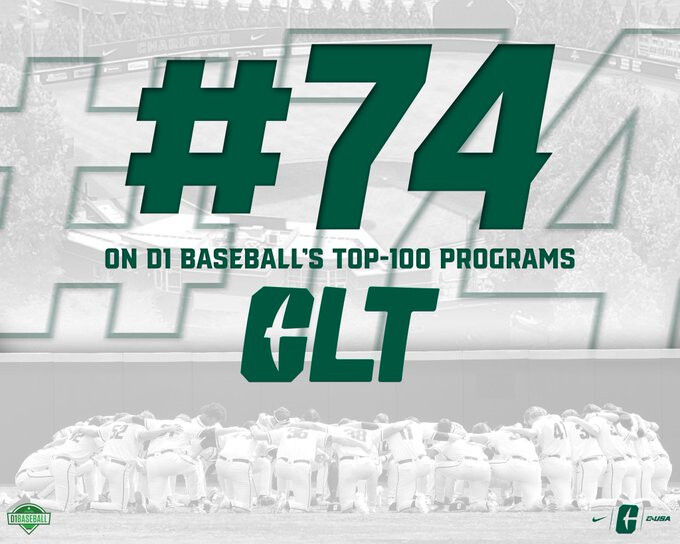 UNCW was #46 on their list in 2019 so they are slipping. They have 5 Regionals in the last 10 years so that is holding them up there. In my eyes we have already passed them. We beat them head to head in a series in 2021 too.
51-60 announced today. FAU added to the list. We are 6-2 against them since new coaching staff started.
52 Florida Atlantic - C-USA/ AAC
63 South Florida - AAC
64 Old Dominion - C-USA/ Sunbelt
66 UNC Wilmington
67 VCU - A-10
74 Charlotte
80 Rice - C-USA/ AAC
91 UCF - AAC/Big 12
96 UNC Greensboro
97 Tulane - AAC
clt says we are a top 35 program