clt says there is no need to play appy in any sport except maybe FB. This is not good for our rpi
Hey y'all, just made this account. But I'm a current student and we are hoping to get a good student crowd for tomorrow that are noisy and engaged. I know it's not gonna be like games in Halton in the early 00's against Cincy, etc. and this team probably isn't going to be as good as them, but that OT win could be the catalyst to building something better than we've had for a solid number of years. Making this message to encourage you guys to come on down and help us build an atmosphere. I'm sure you have amazing memories as a student following this team and I'd love to have some more of my own. Its a local rival and tickets are not expensive, I am pleading you all to come on out tomorrow and support the school. If I convince 1 person on here to come that wasn't planning on it then I did my job!
Since there is no more RPI as relates to MBB, should be okay.

Seriously, here are the latest Kenpom rankings of our opponents this season:
137 CHARLOTTE
70 Boise State
121 Davidson
127 UMass
172 Tulsa
211 App State
222 Detroit Mercy
304 Coppin State
308 UMES
312 Presbyterian
322 Monmouth
36 UAB
68 FAU
73 North Texas
110 WKU
119 Middle Tennessee
128 LA Tech
194 UTEP
236 FIU
245 Rice
320 UTSA
Absolutely love what you are doing. We need this leadership from our students! Thank you!
Welcome Niner23!
A lot of us will be there.
And thank you for spreading the word with enthusiasm!
The crowds are not as big as the "old days" but our student section is still going strong. You guys have been really active and vocal the last couple years.
I see good things ahead!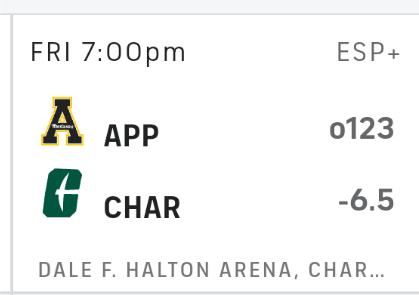 CBS has us laying 6.5.
App State contest always holds sentimental value for me since the very first Niners game I ever attended was against the Mountaineers in the Mine Shaft during the Bill Foster era. App was then coached by Press Maravich and my most vivid memory of the game was Pistol Pete's father being ejected and making a quite a scene before he left the court!
Welcome to the board!! I know the students will show up and show out!! Give the Appies hell!!
App was also our first opponent in Halton after Duke pulled out, IIRC.
Going back to the Davidson game, one thing that helped us immensely was not getting off to an awful start like we did against Detroit Mercy. We hit a few 3s and it really set the tone for the game.
Here is hoping we start solidly again tomorrow night. Would love to beat both App and Davidson in the same season. That can never happen enough.
December 2 1996 is when Halton opened. 26 years to the day of tomorrow's game vs App.
We beat App 75-63.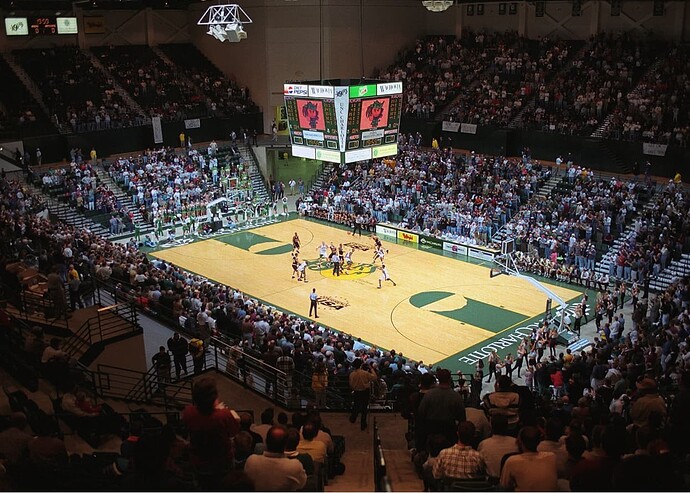 I thought Press was going to have a stroke right there in front of me!
The turnaround in recent years for football is remarkable, even this year. Averaging 4k (2021) has been more than I could've asked for. Other sports will get there, the culture is gradually shifting as we move away from the commuter school nametag and into the AAC. But the difference in engagement from my freshman year to now is unbelievable. I truly believe the majority of Charlotte students are also Charlotte sports fans
Objectively, our student attendance and engagement for football has been remarkable given the very limited amount of success the program has had. The students are awesome!
It's my firm belief that when we start fielding a winning program, we are going to be back to the 2013 dilemma of not enough tickets available for the students. Remember that? Until we expand. There is so much latent demand.
clt says that has it all, old norm, old 49ers logo, old school logo.
Glad to have one logo now,
Season tickets. Always there cheering on the team. Thanks for your energy and passion. Go Niners