FWIW, PC played UAB ten days ago, with the Blazers winning 92-61.
We should be able to win and win big here. Need to find our shooting or else this season could get out of hand quickly.
A win will tell me nothing. A loss will tell me a lot.
clt hears that lutz was spotted on campus
5 minutes into this game, and Charlotte has 4 points.
Those Presbyterian unis are horrible for number contrast.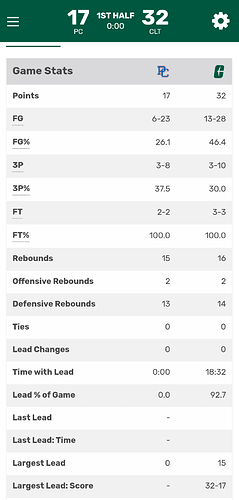 I'm not sure if anyone cares, but here are my unbiased thoughts:
I don't see much different from our last outing aside from an even weaker opponent. We were able to score in the post due to a large size mismatch, and we finally hit a couple of 3s near the end of the half. The other team couldn't hit water if they fell out of a boat aside from that Barnett kid, who did what every other decent shooting team does to us.
I guess it's better than losing, but I don't see anything that says AAC basketball program on the floor right now.
Guys need to practice layups and reading a shot clock.
Why do teams shoot the three so well against us?
clt says it is a "feature" of the pack line
Chicken for everyone!

The pack the line defense is designed to deny penetration and force teams to take outside shots. It's a defense that is for a different era of basketball.