Conference USA Football 2022 All-Conference Team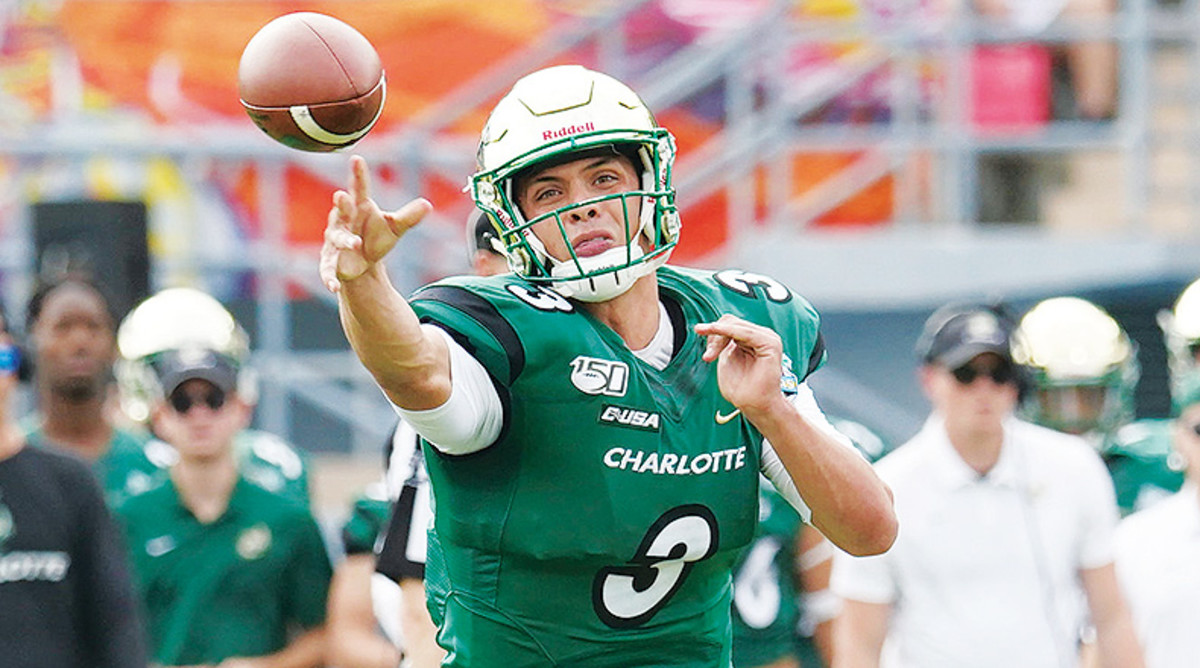 Charlotte Athletics
The 2022 All-Conference USA Team is dominated by selections from expected frontrunners UAB (19) and UTSA (16). The Blazers and Roadrunners aren't the only teams hitting double-digit all-conference picks, however. UTEP (13), WKU (12), Charlotte (11), FAU (10) and Louisiana Tech (10) also had at least 10 players selected on the Conference USA All-Conference Team for '22.
Athlon Sports has released its top 25 for 2022. Now, it's time to take a look at the best of the best and honor the top players in the league with a release of first, second, third and fourth all-conference teams for 2022.
An important note on the all-conference teams: These are based on how players will perform in 2022. Career statistics and awards matter in the evaluation, but choosing players for the 2022 all-conference team is largely based on predicting and projecting the best for the upcoming year. Also, team strength does not play a role in selections. These are the best individual players at each position in the league for '22.
Conference USA Football 2022 All-Conference Team
First-Team Offense
QB Frank Harris, UTSA
RB DeWayne McBride, UAB
RB Ronald Awatt, UTEP
AP Jermaine Brown Jr., UAB
WR Zakhari Franklin, UTSA
WR Tyrese Chambers, FIU
TE Rivaldo Fairweather, FIU
C Ahofitu Maka, UTSA
OL Quantavious Leslie, WKU
OL Manase Mose, North Texas
OL Sidney Wells, UAB
OL Matthew Trehern, UAB
First-Team Defense
DL Jordan Ferguson, Middle Tennessee
DL Praise Amaewhule, UTEP
DL Keenan Stewart, UTEP
DL Evan Anderson, FAU
DL Davon Strickland, FIU
LB Tyler Grubbs, Louisiana Tech
LB KD Davis, North Texas
LB Noah Wilder, UAB
CB Corey Mayfield, UTSA
CB Starling Thomas V, UAB
S Rashad Wisdom, UTSA
S Teja Young, FAU
First-Team Specialists
K Brayden Narveson, WKU
P Lucas Dean, UTSA
KR Shadrick Byrd, Charlotte
PR Jaylin Lane, Middle Tennessee
Related: Athlon Sports' College Football Top 25 for 2022
Second-Team Offense
QB Chris Reynolds, Charlotte
RB Shadrick Byrd, Charlotte
RB Ari Broussard, Rice
AP Smoke Harris, Louisiana Tech
WR Victor Tucker, Charlotte
WR Grant DuBose, Charlotte
TE Oscar Cardenas, UTSA
C Nick Weber, FAU
OL Elijah Klein, UTEP
OL Joshua Mote, Louisiana Tech
OL Makai Hart, UTSA
OL Rusty Staats, WKU
Second-Team Defense
DL Markees Watts, Charlotte
DL Ikenna Enechukwu, Rice
DL Deshon Hall, Louisiana Tech
DL Darius Shipp, WKU
DL De'Braylon Carroll, Rice
LB Breon Hayward, UTEP
LB Tyrice Knight, UTEP
LB Trevor Harmanson, UTSA
CB Deshawn Gaddie, North Texas
CB Kahlef Hailassie, WKU
S Grayson Cash, UAB
S BeeJay Williamson, Louisiana Tech
Second-Team Specialists
K Jacob Barnes, Louisiana Tech
P Joshua Sloan, UTEP
KR Jaylin Lane, Middle Tennessee
PR Smoke Harris, Louisiana Tech
Third-Team Offense
QB Dylan Hopkins, UAB
RB Oscar Adaway, North Texas
RB Ikaika Ragsdale, North Texas
RB Lexington Joseph, FIU
WR Joshua Cephus, UTSA
WR Daewood Davis, WKU
WR Trea Shropshire, UAB
WR De'Corian Clark, UTSA
WR Cedric Patterson III, Rice
TE Joshua Simon, WKU
C Jordan Palmer, Middle Tennessee
OL Shea Baker, Rice
OL Kadeem Telfort, UAB
OL Ashton Gist, Charlotte
OL Lyndell Hudson, FIU
OL Jeremiah Byers, UTEP
Third-Team Defense
DL Fish McWilliams, UAB
DL Roderick Brown, North Texas
DL Juwuan Jones, WKU
DL Brandon Brown, UTSA
DL Jamal Ligon, UTSA
LB Kelle Sanders, UAB
LB Will Ignont, WKU
LB Jaden Hunter, WKU
CB Mac McWilliams, UAB
CB Teldrick Ross, Middle Tennessee
S A.J. Brathwaite, WKU
S Keondre Swoopes, UAB
Third-Team Specialists
K Gavin Baechle, UTEP
P Kyle Greenwell, UAB
KR Walter Dawn, UTEP
PR LaJohntay Wester, FAU
Fourth-Team Offense
QB N'Kosi Perry, FAU
RB Marvin Scott, FAU
RB Deion Hankins, UTEP
AP/RB Calvin Camp, Charlotte
WR Malachi Corley, WKU
WR LaJohntay Wester, FAU
WR Tyrin Smith, UTEP
WR Jaylin Lane, Middle Tennessee
WR Roderic Burns, North Texas
TE Jack Bradley, Rice
C Abraham Delfin, Louisiana Tech
OL Brendan Bordner, FAU
OL Clay Servin, Rice
OL Kevin Davis, UTSA
OL Gabe Blair, North Texas
OL Will Rykard, UAB
Fourth-Team Defense
DL Amir Siddiq, Charlotte
DL Kelton Moss, UTEP
DL Brandon Matterson, UTSA
DL Mykol Clark, Louisiana Tech
DL Trey Schuman, Rice
DL Enoch Jackson, North Texas
LB Donovan Manuel, FIU
LB Chris Jones, FAU
LB Dadrian Taylor, UTSA
LB Johnathan Butler, Middle Tennessee
LB Gaethan Bernadel, FIU
CB Myles Brooks, Louisiana Tech
CB Smoke Mungin, FAU
CB Trey Creamer, Charlotte
S George Nyakwol, Rice
S Will Boler, UAB
S Tank Robinson, Charlotte
DB Dennis Barnes, UTEP
Fourth-Team Specialists
K Matt Quinn, UAB
P Kyle Ulbrich, Middle Tennessee
KR Lexington Joseph, FIU
PR Starling Thomas V, UAB