Seemed like a good event to start the thread.
Is that Isaac Washington (2nd picture shaking someone hand)?
Has the schedule of ticket dates and a blurb about ticket prices: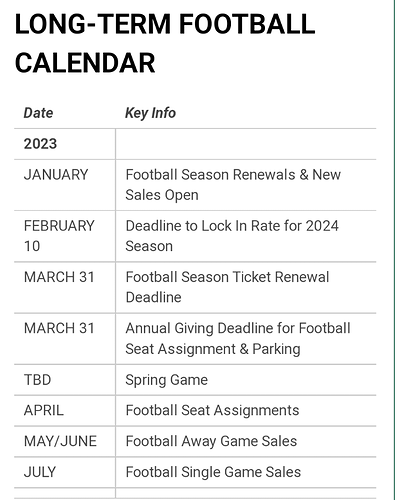 Why did my season ticket price change for the 2023 season?
Entry into the American Athletic Conference brings a higher level of competition requiring additional resources to continue our growth and pursue championships.
Will my season ticket costs go up for the 2024 season?
With the anticipated demand for tickets based upon the announced 2024 home schedule, pricing will increase again.
Fans can lock in their pricing through the 2024 season by renewing, enrolling in a payment plan or purchasing by Friday, February 10. Some exclusions apply.
We anticipate increased demand for tickets so we're raising the prices is a poor excuse
While my pocket doesn't like going up in price I am glad to see we are. We have to step up the financial component of the program of we want to compete at the AAC level.
clt says we need to look at the iptay model as well.
Lots of new alums can easily pay $49/year, that is an avacado toast and mimosa at brunch
I thought that as well. Maybe somebody makes a suggestion th Hill.
Yeah I anticipated ticket prices would rise with the conference change. I went ahead and renewed my season tickets today so I could be locked in through 2024 season.
We have had a $49 a year program for years - especially with basketball.
I believe we already have our home and away opponents lined up for AAC play don't we? Even if we don't have the dates?
So, now for our 3 seats in 102, we have to pay tickets at $750 (3*$250), plus $300 (3*$100) in "seat donations", plus $106 (Orange deck)?
That's $1,156.
I'm not sure how my wife will react to that but I doubt it will be positive. I can tell you that if we renew any extra donations we make are gone after this.
That's a pretty negative viewpoint to have to support Charlotte Athletics. My donation tier went up 500 dollars just to maintain my current donor tier but this will continue to be the new normal so I know this will continue moving forward. I didn't feel the rising price was post worthy. If we want to do more athletically we must be willing to do more financially as a fan base.
The per seat required donation is counted towards your 49er club donation. So if you were giving the required amount to keep your seats locked in it really isn't an impact.
I was wandering what the seat donation was as their explanation isn't specifically clear. I just renewed my 4 FSL seats and at the Forty-Niner level and giving $300, I assume it is pretty much a wash.
I'm paying either way, just like to know the exact breakdown.
Based on what I've been told the req seat donation is for non FSL holders. If you are an FSL holder making the required donation the perseat donation does not apply. If you want to sit in say 111 which was an FSL section without an FSL you have to make the req seat donation.
That's not spelled out well in the document they sent out. They need to fix that.