Brutal match up, SMU is notorious for winning & scoring points at Home in AAC conference play. They put up 77 in one game last year at home😳.
Their offense is statistically ranked 29 our defense 100+. Statistically the highest ranked total offense we have faced so far this year and for sure the fastest tempo.
Challenging game to start conference play.
Niners football in Dallas on Saturday and then MSoc will be there on the following Wednesday. And per the just released AAC MBB schedule, Niners travel to the Big D on January 2nd. Of course, Mustangs will be making many trips to the Old North State in the future - just not in 2023-24.

We have however lost to current #22, a team receiving votes, and an unranked undefeated team. Hard to put up top defense numbers against that slate. Last year's team might have the same record at this point but they would have been torched by the teams we've played.
They worked some options plays into the Florida game. I think we could have some success if we run a version of the option with JJ. Defense will have to force some turnovers if SMU is going to run tempo. We have to control the clock to remain in this game.
I liked how that option looked as well. I'm not saying turn into an Army but we can incorporate that along with some RPOs that will get us a ball control offense even if it's not the power running like Michigan.
Anything we can do to counteract SMU's tempo is probably favorable.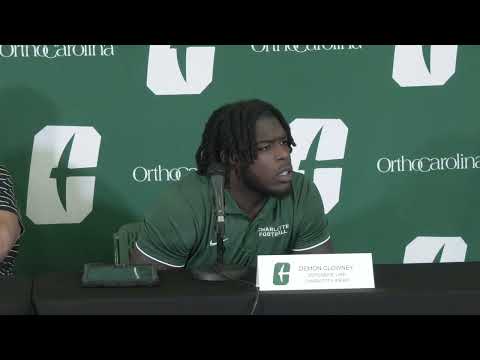 It sounds like Jeremy from Hwy 49 podcast asked a bunch of questions. Good ones too.
https://twitter.com/hometownJT/status/1706719815010767288
Notes:
Jalar Holley had his season ending surgery today.
Panda Askew is having Labrum surgery soon (typically 8-10 week recovery though Poggi didn't reference a timeline).
Our opponents records so far:
SC State- 1-3
Maryland (RV) - 4-0
Georgia State (RV) - 4-0
Florida (#22/#23) - 3-1
SMU - 2-2 (0-0 AAC)
Navy - 1-2 (0-1 AAC)
ECU - 1-3 (0-0 AAC)
FAU - 1-3 (0-0 AAC)
Tulsa - 2-2 (0-0 AAC)
Memphis - 3-1 (1-0 AAC)
Rice - 2-2 (0-1 AAC)
USF - 2-2 (1-0 AAC)
Good thing nobody remembers September!
True labrum definitely not a 8 week recovery
Given their tempo, if the idea as mentioned in press conference to start fast, if we win toss do not kick them the ball….
Found the stat interesting that he shared at the beginning. We outgained Florida after the 1st quarter. That is impressive considering G5 teams usually wear down in 2nd halves against the P5.
What is a more realistic timetable?
Variable on the extent of repair and any other compounding issues (ie bicep tendinopathy, rotator cuff). I'm probably a touch more conservative but usually don't have return to contact sports at least 4-6 months post op
How you guys seen the weather report for Saturday.