https://twitter.com/Charlotte49ers/status/1725169389916262883
So this is going to be an in season game like the cocktail party in Jacksonville.
Meh. I prefer these games on home fields. Plus App owes us a home game.
The only other way this makes sense is if it it coincides with expansion construction plans.
According to App fans, they've already sold out the stadium.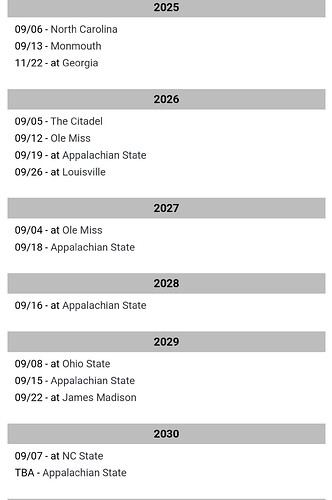 Okay, I understand why now. Our H&H with them starts the next season. We had a hole in our non conference schedule in 2025.
It's a no-brainer in terms of exposure in the city and nationally, just need to field a competitive team
Replaces ECU as that's a conference game now
Good. Buildings taller than the Wendy's for them to jump off of when they lose.
clt can already smell the appys coming down the hills.
3 straight "home games" to start the 2025 season…App, Tar Holes and then Monmouth.
That 2025 schedule is a doozy. App, CHeat and Georgia??? Hope we have a squad that season.
clt connects the dots, it is unlikely we play back to back games at bofa
expansion should be complete for the UNC CHeat game
Color me less than impressed.
Starting 3-0 - first time we may be Nationally ranked!
I think this is an awesome opportunity. This is a marquee game regionally. I was uptown this year for a bit before the game and there was a lot of energy. We need to have a huge showing by our fans and we need to play a good game and hopefully win. A 20 point loss at Bofa on national TV in a stadium with more yellow and black would be a disaster. A win with a packed lower bowl of at least 50% green would be a big opportunity. We need to have a good year next year to build fan support for this game or we may end up looking bad.
For all the crap we give app fans, they support their football program extremely well. I don't want them out numbering us in the bank.
We had to replace ECU on the schedule. This is an awesome opportunity - but ugh that schedule is tough. Hopefully we are ready.
Great exposure and chance to elevate the program.
Hope lots of events are planned around this uptown.
clt says bofa will look very green. students are going to love this and take the light rail uptown
the uptown hooters going to be crazy!
FFS, free ride + free ticket to the game. Campus should be empty that day. Let's get ALL of them down there and pack the stadium.
Better be mentioned on TV that they can ride the choo choo from campus to just blocks from the stadium. That is really unique.