Charlotte State University
University of Charlotte makes a statement.
We immediately become THE University of Charlotte. The biggest city in NC and internationally known. Much better than Charlotte University in my opinion.
How about Bobby Lutz de University Von Charlotte de 49ers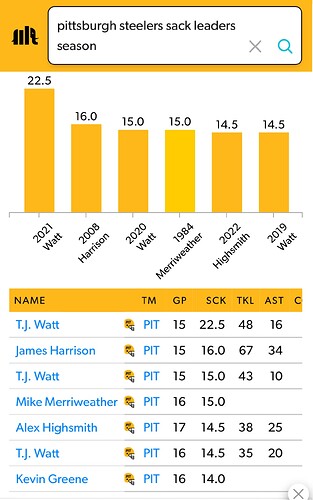 Incredible year and these Steelers season sack leader totals reinforce that Alex should be considered a Pro Bowl linebacker
WATCH: Highsmith - 'I'm just grateful'
Alex and his family are about to receive generational wealth from the Pittsburgh Steelers. God bless Alex, he has earned it, both with his play on the field and his person off the field. Guys like Alex are few and far between in my experience. Believe me, Alex has been getting assaulted with negative Pittsburgh media assholes every single season, and he just kept working and getting better. Finally, 14.5 sacks shut the naysayers up. Alex is what we knew him to be already, except even better than we knew.
clt says come home Alex!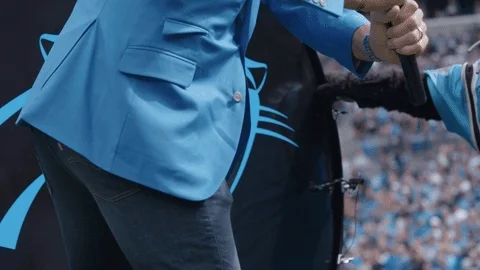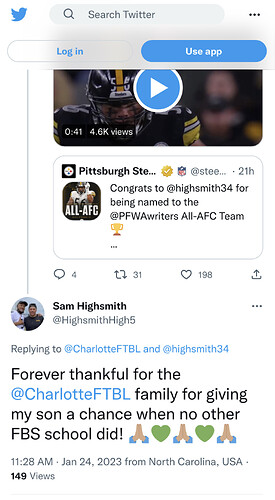 We are setting course competing about who is more thankful about Alex Highsmith, but I must defer to Father Highsmith for his job well done raising the man, the legend, the 49ers and Steelers Great, Alex Highsmith!
When are we going to retire his number?
Do we have any guidelines for football numbers being retired?
I know for basketball we have parameters - must be all conference player, etc.
Alex could get $20 million per year? That was franchise quarterback money not that long ago!