I've been waiting for something like this!
Can someone post a stillshot of the helmet? I can't get the video to play at work.
ETA:
Here's a picture: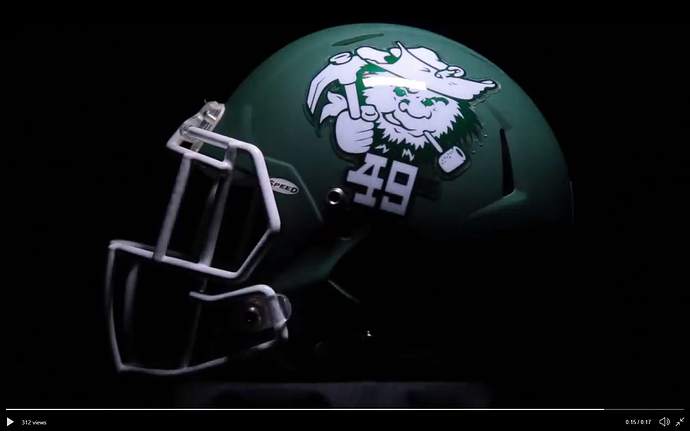 That's a tremendous helmet.
Love this…would buy everything attached to this logo. Keep!
I'm going to have to wear my Norm shirt now instead of my jersey. This helmet is sick!!
This is beyond awesome for me. It's from my days on campus.
It is funny how when we dumped that logo and moved to the C-pick the general consensus was that we had moved to the big leagues. We had gotten rid of what looked like it had been orignally sketched on a napkin, to a new polished and professionally designed logo. Fifteen (?) years later we love what we hated. I bet fifteen years from now we will have the C-pick on a homecoming helmet and people will think it is a great retro look.
I think this helmet is fun, and I think homecoming is a great time to do this. I don't want it to be a primary logo again, but as an alternate throwback it is great.
tastes change. trends come and go.
It's a challenge to come up with a logo that stands the sands of time. The Michigan M is a good example. We are still searching for that. Throwbacks though are fun. I still want a UNCC final 4 season basketball throwback.
When will the new bling be available for purchase?
Agree. As a throwback, I love it. Don't want to return to it as a primary, though.
Love the throwback helmet!! Hope there is some merch on sale with the old school logo! Love the gold metallic helmets we have and now this old school Norm logo for the helmet; fingers crossed that we see an all gold uniform down the road!
I understand WHY people would want a '77 UNCC throwback uni, but any gear that says "UNCC" on it is a terrible idea until we've made enough progress to get past all the name confusion for our school and program.
I would love to see us adopt a collegiate "C" as our primary. Colors green and white.
The gold "Forty Niners" basketball throwbacks are sweet
I have thought bout that too. I am thinking more calligraphy. I have a hat circa late 90s that has a calligraphy C in gold on a green hat. I love it.