http://gmine.blogspot.com/2007/10/top-recruit-to-visit-b-ball-madness.html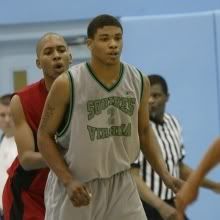 Stars: 5
Size: 6-7
Weight: 210
AAU: Richmond Squires
Class: 2009
Offered: LSU, Virginia, Memphis
Others Recruiting: Maryland, Seton Hall, Clemson, Florida, Georgetown, Tennessee and Texas
http://sportsillustrated.cnn.com/2006/highschool/09/08/top.sophomores/index.html
listed 11th on si's super sophmores.
http://www.takkle.com/photos/51936/display
#84 Karron Johnson (09 6'6 Mt Zion, NC) Johnson is extremely explosive and aggressive. He attacks the basket hard off the bounce and finished with tough lay ups or powerful dunks. He is also active when he doesn't have the ball. You can see him lurking around the rim to throw down a tip dunk. Johnson is a fierce rebounder and a very good passer for his size. His future looks very bright.
http://charlotte.rivals.com/viewprospect.asp?pr_key=53822&sport=2
oh he will be in attendance at Niner Madness this thursday so everyone make him welcome.