The bill failed…here's my favorite excerpt and just another reason to hate anyone associated Chapel Cheat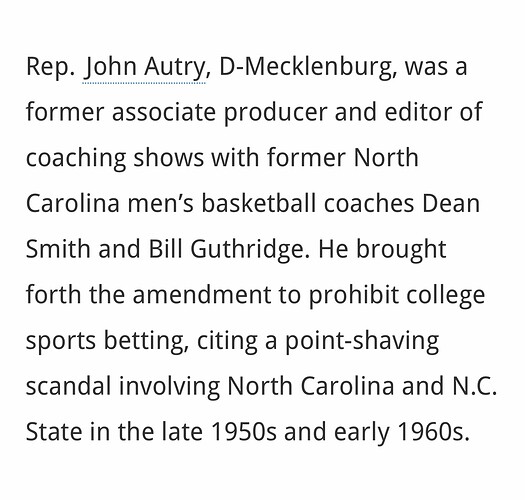 Geezus this state could not be more behind the times. It's just ridiculous.
Da purity of da cheat'n must be purserved.
Well…It's intuitively obvious that the point shaving scandal in the late 50s was directly caused by online gambling.


Politicians be stupid.
clt says yes, UNC CHeat would never be involved in a scandal
It's worse in Georgia. Our politicians keep voting down any bill. Even though all the bill would do is allow us to vote on a referendum in November. Gotta wait until 2024 now at the earliest. Never thought Tennessee would get ahead of GA and NC lol
Youz must onlay cheats in da classrooms, not on da courts!
I'm tilting this pretty badly, here's the thing, you can still play college football/basketball on DraftKings/FanDuel here. Funny how that putz didn't mention 30 years of blatant academic fraud that went unpunished.
There was in fact a more recent point shaving scandal in Rawlee
Good thing NC was overly concerned about gambling on their precious ACC programs and point shaving scandals from the sixties……SMFH
Massachusetts getting things done, still not over NC f'ing this up.
From March:
" Tax revenue would be allocated to various interests in the state, including the athletic departments at seven UNC System public colleges. Hawkins said supporters will amend the bill to add UNC-Wilmington, UNC-Greensboro and Western Carolina to the athletic departments that receive funding.
The athletic departments would receive $300,000 annually and then 10% of the revenue left after other monies are distributed.
The only athletic departments that would not receive tax revenue from sports gambling are those that sponsor football at the highest level: App State, Charlotte, East Carolina, NC State and UNC-Chapel Hill."
clt says the poor schools get free cash?
NC politics at work
Damn, I was hoping our Omission was because we already had our SEC invite.
Looks like Charlotte can get more than $300,000 annually if this passes. No money for the P5 schools.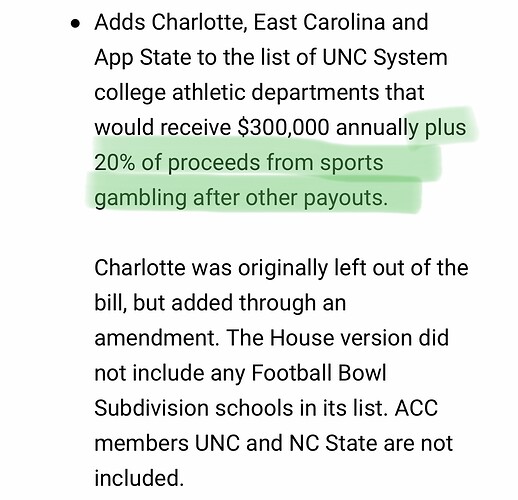 Am I the only person completely unsurprised that we were an afterthought in a legislative session?
Has to be the first time that's happened, right?

clt views it the other way. they said appy and eCu are poors and need the money. then realized it isn't a good look to have another AAC team in NC not receive some cash