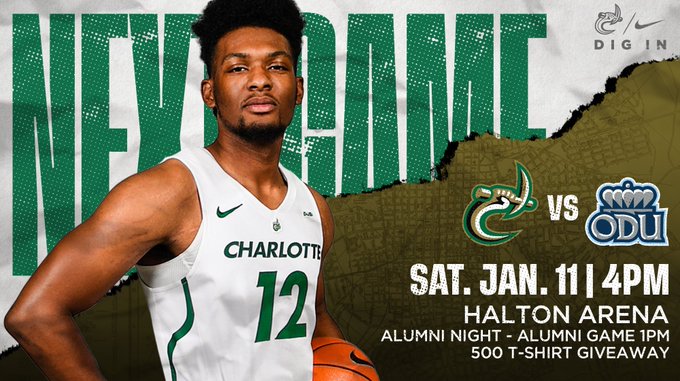 Biggest game we've played in a long time, next 3 on the road @ Marshall, WKU, and ODU.
I'm thrilled to learn we've held our last 4 opponents to 25 points or less.
"The 49ers hold opponents to 61.6 points a game and limited them to 25 points or less in their last four games, which means they're always in contention."
Hope to see a good crowd tomorrow. With the culmination of the alumni game and a chance to go 3-0 in conference, these guys deserve a good crowd!
I'm not sure, but from the looks of the avail seats, there are no gold section tickets left and upper seems more sold than usual.
Classes started on Wednesday, so students are back.
Hey poor people, get it together and come to the games!

The Charlotte Post piece should have read (added/edited text in bold):
Winners and Whiners picks ODU. Given the fact that the Monarchs have won five in a row vs the Niners and 9 of the past 10, not going to argue with it.
FWIW, writer apparently unaware ODU had been without Clemson transfer AJ Oliver II (13.8 ppg) until after the fall semester, though he acknowledges Shepherd has been out.
Knew ODU had some players enter the transfer portal and this confirms it - 6-5 SG Marquis Godwin (8.3 ppg and top 3 pt shooter at 30%) and 7-0 C Dajour Dinkens (3.3 ppg, 3.8 rpg, 1.5 bpg). Former headed to nearby Hampton while latter had transferred to ODU from Providence.
Just checking on the latest NET rankings - Niners #156 and ODU #154.
Unreal to think…if we would have just beaten UNCA at home & held on to a huge lead to beat ECU…we could be in the midst of a 9 game win streak!!
How long has it been since we had a 9 game win streak?
Good win. Team looks pretty good. Defense is legit. Offense could always be better. Defense held ODU Green to 2 points (1-12 fg, 0-7 3pt).
Vasic came in around the 13 min mark in the first half, hit a 2 pt jumper and then a 3. He was a good spark off the bench. I Would have liked to see him play a little bit sooner than the 10 min mark of the 2nd half.
That last 60 sec wasn't a breeze. ODU put in the bench down 11 points with a minute left so I guess Sanchez felt he needed to. Really surprised ODU didn't foul us and let us run out the remaining 23 sec clock. They cut the lead from 11 to 6. The ODU coach conceded. (In 7th grade I played on a Christian high school (K-12) varsity team and was the bench player put on with a minute left. From first hand experience, and with the other guys with me, we don't wanna go in the game for a minute. It's not fun and kinda embarrassing)