I think the first comment in that video said it best: Pele could dribble and pass like Messi, but was also as lethal from range as Cristiano Ronaldo. He was like combining both of those guys in their prime. He also did it in an era when star players didn't get diva calls like quite frankly Messi often gets (insert best NBA comparison here). Pele battled through guys constantly fouling him cause they couldn't stop him. He led Brazil to 3 World Cup titles (only guy to ever do it), and later in his career, actually made soccer, via the NASL, and specifically the NY Cosmos, viable in America. He was an amazing player.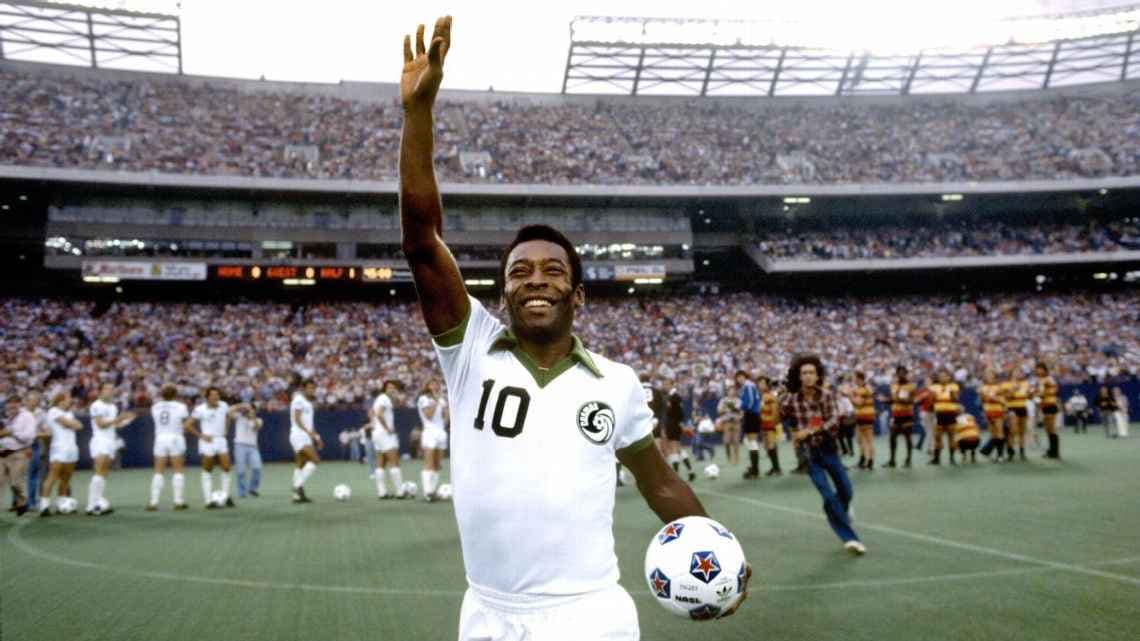 On June 10, 1975, the New York Cosmos announced Pele was joining the club. Widely considered the greatest soccer player of all time, he led Brazil to three World Cup titles – the first in 1958 when he was 17-years-old – and for Brazilian club Santos he scored 1,091 goals, leading them to 21 titles.
Here are five things to know about Pele's time in the North American Soccer League.
Pele signed a three-year $2.8 million contract, making him the highest paid athlete in the world.
The forward was 34-years-old and had not played soccer competitively for eight months when he joined the team. He scored 37 goals and registered 30 assists in three years, winning the 1976 NASL MVP and leading the team to the 1977 Soccer Bowl title.
He made his debut for the club on June 15, 1975 vs. the Dallas Tornado at Downing Stadium in New York. He netted one goal and picked up one assist in the 2-2 draw. His career ended on October 1, 1977 against his former club, Santos, in front of a sold-out Giants Stadium.
Ten million people tuned in to watch CBS' live broadcast of Pele's debut match – a record American TV audience for soccer. The Cosmos' home attendance tripled in just half the season Pele was there. By the time he retired in 1977, average attendance for the league had almost doubled from 7,642 to 13,558.
The Cosmos set several attendance records during Pele's three years with the club.
April 9, 1976: 58,128 (NASL)
June 9, 1977: 62,394 (U.S. Soccer)
August 14, 1977: 77,691 (North America)
The league's most prominent team was the New York Cosmos. During the mid-to-late 1970s, the Cosmos signed a number of the world's best players —Pelé, Franz Beckenbauer, Carlos Alberto— and the Cosmos averaged over 28,000 fans for each season from 1977 to 1982 while having three seasons of the average attendance topping 40,000 spectators per game
Those early NASL days were rough. The team / league pumped all of its money into paying star players like Pele, even while forcing them to play on dirt fields that they literally spray painted green to look like grass, or in MLB stadiums on horrible artificial turf. It didn't matter, Pele still scored almost at will. He also hung out with stars like Elton John.
For some added nostalgia, watch the movie Victory (1981), which stars an older, retired Pele, Sylvester Stallone, Michael Caine and Max Von Sydow. It's basically a cross between a WWII POW movie and The Longest Yard, but it's not a comedy (more of a tear jerker despite the campy promo below). I probably watched that movie 10 times as a kid. It was more or less an excuse to get Pele's skills on film.