I may be in the minority but I like a lot of our current logos…sans the unc and the 49ers crammed in the c pick.
I absolutely HATE yellow replacing the gold. Green and yellow is horrid…I would much rather keep the Vegas gold.
And I like our actual old norm too…much better than this remade old norm.
Give me the c pick without the 49ers in it, a standard dark green and Vegas gold…and revive our old 80's norm as a retro logo and I'm good.
Again…I'm sure I'm in the minority with that.
I agree with you Leader. That yellow green and piss yellow are non-starters for me. I hope that does not end up being part of our rebrand.
I don't have a problem with improving on what we have but none of this in my opinion is an improvement.
Was just some guys having fun. I applaud the effort. More effort than Stamats put in - and we paid them!
The "c" looks like a bad minor league hat from the 80's
Nothing about this is good. It says, we are the Richmond County Raiders. Is that who we want to be compared to?
I love it. Simple and clean. Tweak the colors some.
The University of Charlotte Mello Yellows. As opposed to the Mean Green
I'm sure I'll be in the minority, but I actually like it a lot. I've always liked green and more of a yellow-gold. Like Oregon (when they aren't using their neon highlighter version) or ndsu. Or old school Sonics, like in my avatar. I also really like the font and numbers. Those hoops jerseys are pretty cool. I know this was just for fun but damn those guys put in some work.
I like it a lot. We need simpler. It's simpler. Uses the old and the new. Could do a bunch of crazy things with it. Which is good.
I LOVED the "throwback number font"
I really enjoyed seeing this well thought out presentation. I don't normally get to see the behind the scenes branding efforts.
I like our current green better, but it sucks all the light out of a building, and doesn't pop on TV. This green would.
Their C-pick is simpler, easier to "read", and intrigued me. I would like to see if it could be refined a bit, maybe slant it forward some.
I don't like the short, fat Norm. I want our mascot to look like he would kick your ass and then sleep with your sister. This isn't it.
The typography looked good. I like the Niners script for the baseball jerseys, and I love the pinstripes.
Are you trying to say short fat guys can't sleep with your sister and kick your ass?
I am not saying he can't, I am saying he doesn't look like he can.
While browsing logos, I came across this monstrosity from the local high school here in west Seattle. I think they are called the Cocaine Fueled Roid Cats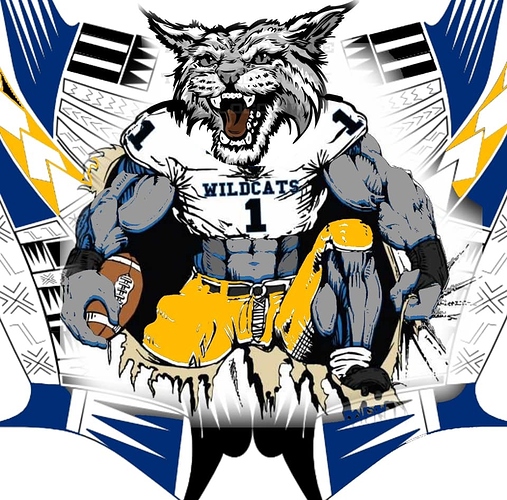 Great effort! For me, this is how our rebranding should be approached. Recapturing some of the old, subtle references to where we are now as a fan base (chip in the letters like the chip on our shoulders, for example), and an attempt to stand out as a nod towards future growth.
A lot would need to sink in for me to know how I really feel about this specific design, but I immediately thought every jersey looked badass. If anything, this brand in print lacks the appeal the jerseys capture.
But again, great effort and I enjoyed reading about the ideas that drove design. Great design starts with well defined goals and you are spot on with all those.
I appreciate the effort put into creating this, but imo that logo looks god ugly. I really like the new norm though, and hope we move in that direction.