clt says we can absolutely beat maryland. already 1-0 vs the acc at the rich
Is anybody playing in the D backfield?
Saw this OL grade sheet: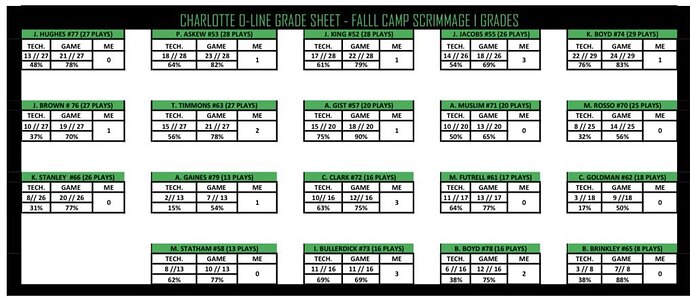 ME=Mental Error
I thought it was interesting that Knox Boyd graded out so solidly. He hasn't gotten talked about much so far:
I noticed TJ Moore is not listed. I hope everything is ok with him.
Al and Bobby are P5 level. Glad they're associated with our program.
First odds on game with FAU we were at +5.5 point underdog, today its +7.5. Sure hope we surprise a bunch of people
Anyone have any idea if WCCB will pick up any of the Stadium broadcasts this year? Particularly the 3:30 games?
Our overall schedule is tough but the home opponents outside of Maryland aren't that daunting. Be nice to go 5-1 at home this season.
Healy hasn't been stellar on the road, but he wins at home, often.
Predict 1-5 on road, 4-2 at home. It's not what I want, but that road schedule is difficult. If we are going to bowl, Healy has to figure that out.
If he goes 5-7 im not sure he will get to "figure it out".